Trump appears to be pro-life and against sex trafficking. He has many religious groups and conservatives on his side. But there is evidence that he is part of the swamp he said he wanted to drain.
Trump's connection with the Rothchilds.
(20,039 words)
Getting Donald Out Of Debt: The 25-Year-Old Ties That Bind Trump and Wilbur Ross
Chase Peterson-Withorn Forbes Staff
This article is more than 3 yrs old Design: Nick DeSantis, Forbes Staff
America's first billionaire president is riding into the White House with populist support — and he's bringing some billionaire friends with him. One of them is distressed-asset investor Wilbur Ross, who is Trump's pick for commerce secretary. The two have a history that spans more than 25 years.
Trump made a bold bet on Atlantic City when he opened a third casino there — the colossal Taj Mahal — in April 1990. Even riskier: He financed the project with $675 million in junk bonds at a 14% interest rate. Within months Trump was struggling to make the massive bond payments as Atlantic City floundered.
In stepped Ross, then head of Rothschild Inc's bankruptcy advising team, to represent bondholders, who were pondering forcing the casino into involuntary bankruptcy and ousting Trump. Ross reportedly saw crowds pressed against Trump's limo windows to get a peek at the mogul, and realized the value of Trump's celebrity.
He struck a prepackaged bankruptcy deal: Trump would give up 50% of his stake in the Taj but would receive better debt terms and would remain in control. The Donald was back in business: He ultimately made similar deals for his other troubled properties and climbed out of debt and back onto the Forbes 400.
Ross went into private equity in 2000, forming WL Ross & Co. He still runs it, but he sold it to investment firm Invesco in 2006 for some $375 million. In 2013 Invesco partnered with Trump's son-in-law, Jared Kushner, and others to buy 5 industrial properties from the Jehovah's Witnesses in Brooklyn for $240 million.
Nearly all of Trump's wealth is tied up in real estate, but he has also owned stocks. One holding, according to a May 2016 filing: $250,000-$500,000 worth of Invesco European Growth Fund Class Y shares. (Trump claims to have sold his stock holdings in June, though he has not provided evidence to support the claim.)
Trump and Ross are also neighbors in both Florida and New York. Not only is Ross' 16,000-square-foot home just up the road from Trump's 126-room Mar-a-Lago club in Palm Beach, but the two also share a 57th-Street address in Manhattan. Ross' penthouse is just two blocks from the president-elect's Trump Tower triplex.
For those seeking influence in Washington, the president's cabinet is the highest echelon. While concerns about potential conflicts of interest mount, one person who will have the Commander-in-Chief's ear is his billionaire pal Ross. Will Trump and Ross' latest deal be good for America's balance sheets, or their own?
In May, I was very happy to hear that the Trump adminstration was terminating US funding of the WHO. Then I read this article by Derrick Broze which reveals that the US increased funding to GAVI, the Global Alliance for Vaccination and Immunization.
Vaccine Bait & Switch: As Millions Pulled From WHO, Trump Gives Billions To Gates-Founded GAVI
Derrick Broze July 7, 2020 Originally published at The Last American Vagabond Excerpts
In mid-May US President Donald Trump announced that the US would be ending their financial support for the World Health Organization (WHO) and COVID-19 relief. The move was lambasted in the mainstream press as an out of touch politician pulling funding from a vital global health organization during the middle of a pandemic. To Trump's supporters the decision was met with the typical cheering and celebrated as another Trump victory against the "globalists." To understand what is actually going on we need to examine Donald Trump's actions, not his tweets or media statements.
Let us start by looking at the funding provided by the US government to the WHO in previous years. The latest numbers from fiscal year 2018 (numbers are not available for 2019-20) show an estimated $281.6 million to the WHO from the US. The records indicate that after the US government, the Bill and Melinda Gates Foundation and GAVI, the Vaccine Alliance, are the 2nd and 3rd top financiers of the WHO. The US defunding the WHO actually tightens the technocrats already firm grip on another global institution.
This means when Donald Trump stated the US will no longer fund the WHO, the Gates Foundation and GAVI stepped into the top financial role. Additionally, GAVI was founded by and largely funded by the Bill and Melinda Gates Foundation in 2000. Either way, Bill Gates is the top donor and will continue to expand his influence and dominance of global health policy. As reported in Part 2 of my Bill Gates investigation, in 2010 the Bill and Melinda Gates Foundation launched the "Decade of Vaccines" and called for a "Global Vaccine Action Plan." Since that time they have only grown their network and influence on WHO, GAVI and other organizations in order to shape public health policy in a way that reaps profits for the Gates themselves.
While Trump's supporters viewed the US withdrawal from WHO financing as a win for nationalism or a black eye to the globalists, the truth is a bit more nuanced.
In early June, the Trump administration declared support for GAVI to the tune of a $1.16 billion USD donation. Trump's support for GAVI came via the first ever virtual Global Vaccine Summit. At this summit GAVI surpassed the goal of $7.4 billion, instead raising $8.8 billion USD and securing commitments from most major nations around the world. GAVI even received a $5 million dollar donation from the Rockefeller Foundation. GAVI stated that the funding will go to "routine immunization programs" and will also help the public-private partnership "play a major role in the rollout of a future Covid-19 vaccine…"
Donald Trump, GAVI, and Bill Gates
…Trump's support for GAVI was echoed on the Twitter account for the United States Agency for International Development (USAID). "USAID echo's @Realdonaldtrump's words and is proud to be partnering with @Gavi by committing $1.16 billion to protect people through vaccines, because #VaccinesWork," the tweet reads. (It should be noted that USAID has also been accused of creating fake social media networks in an attempt to foment unrest in foreign nations.)…
Once again, this puts Bill Gates and his organizations at the top of the global health pyramid. So what did Mr. Gates have to say about the success of the Global Vaccine Summit?
"Since its inception GAVI has helped vaccinate more than three-quarters of a billion children … And now, it's stepping up and saying it's willing to deliver a Covid-19 vaccine as soon as one is available to end the pandemic as soon as possible," he said at the Summit. "We must also renew our commitment to delivering every life-saving vaccine there is to every child on earth."
Bill Gates' father funded Planned Parenthood and taught his son to spread the "gospel of eugenics."
Either Way, Gates Wins
Taken together – the May payment of $775 million; the early June announcement of $1.16 billion; and the late June gift of $545 million – these taxpayer funded investments will provide abundant resources for GAVI, and subsequently, the Bill and Melinda Gates Foundation. These funds easily outweigh the paltry $281.6 million the US was giving to the WHO.
It is important to understand that the WHO is a part of the United Nations, which itself is an "intergovernmental organization" that is attempting to replace nation-states as we know them today in favor of global governance schemes. GAVI is a "public-private partnership" where governmental bodies and private organizations partner up to provide some sort of public service. Neither of these organizations has been elected by the free people of the nations in which they operate.
Despite this fact, the Trump administration is continuing to give billions to GAVI and in doing so, furthering Bill Gates' goal to vaccinate 7 billion people. Trump may have pulled funds from the WHO, but that decision allows Gates to take full control of WHO policy and continue to use US taxpayer dollars to fund vaccine projects, including a rushed vaccine for COVID-19. This was likely the plan the whole time…
This is why the Trump administration appointed a Big Pharma lackey to head "Operation Warp Speed," Trump's plan to fast track the development of vaccines for COVID-19. In May, Trump appointed Moncef Slaoui, a former executive with vaccine manufacturer GlaxoSmithKline, to serve in a volunteer position, assisted by Army Gen. Gustave Perna, the commander of United States Army Materiel Command. According to the Trump administration, Operation Warp Speed program is focusing on four vaccines, with the hopes of testing and producing 100 million doses by October 2020, 200 million by December, and 300 million doses by January. Slaoui has said he believes the goal of vaccines by January 2021 is a "credible goal."
Once again, Gates' fingerprints are all over the situation. Slaoui himself has a long history with the Bill and Melinda Gates Foundation, sitting on the boards of companies that are connected to the organization.
It appears that despite the public pronouncements of divesting from the WHO or tweets about standing up to the globalists, the Trump administration continues to push the agenda to vaccinate every person on the planet.
Question Everything, Come To Your Own Conclusions.
Then there is the article by Dr. Joseph Mercola that exposes that Operation WarpSpeed which Trump supports is almost entirely funded and operated by the CIA and department of defense.
Operation Warp Speed — A Technocratic Chess Piece?
Posted on: Wednesday, November 4th 2020 at 11:30 am
Written By: Dr. Joseph Mercola
Published by GreenMedInfo Excerpts
Originally published on www.mercola.com
STORY AT-A-GLANCE
Many of the same surveillance initiatives proposed after 9/11 have been resurrected, with updated technology, under the guise of combating COVID-19
Operation Warp Speed, the White House Administration's effort to produce a fast-tracked COVID-19 vaccine and other therapeutics, is almost entirely funded and operated by the CIA and the U.S. military
Operation Warp Speed is supporting the creation of several COVID-19 vaccines, all of which will be deployed, but to different "critical populations"
Operation Warp Speed is shrouded in secrecy that makes it difficult to ascertain the true agenda, but part of the plan is to monitor vaccine recipients for 24 months after the first dose using biosensors that record and share biological data
Like 9/11, the COVID-19 pandemic is being used as justification for the implementation of more tyrannical controls. It appears they're laying down the infrastructure for a totalitarian control system set to be fully deployed later
In this interview, investigative journalist Whitney Webb, who does both independent work and collaborations with The Last American Vagabond, discusses the little-known details of Operation Warp Speed, a joint operation between U.S. Health and Human Services (HHS) and the Department of Defense to produce a fast-tracked COVID-19 vaccine and other therapeutics.
As you may have noticed by now, Google, YouTube, Facebook, Twitter and a host of other platforms are censoring information relating to COVID-19 in general and vaccine information in particular. Many commentators who touch on these issues have been deplatformed altogether, so information on these crucial topics are getting harder to come by.
"We're at a point where the line between Silicon Valley and the national security state has become so blurred, you really can't distinguish where one begins and where the other ends," Webb says. This in large part helps explain how and why big tech is getting away with such blatant censorship as deplatforming of individuals who discuss issues the mainstream media refuse to touch.
"You can definitely make the argument that it's state censorship to a degree," she says. "I think it's quite telling that a lot of these companies, from the very beginning of their existence, had some sort of funding from U.S. intelligence."
Operation Warp Speed
As noted by Webb, you'd expect Operation Warp Speed, being a government program, to be governed by some federal regulatory agency like the Food and Drug Administration or the Centers for Disease Control and Prevention, or even the HHS, but no. It's almost entirely funded and operated by the CIA and the U.S. military. Webb explains:
"When Operation Warp Speed was announced … it was essentially sold to the public as a joint operation between HHS and the Department of Defense. So, the military was involved from the beginning. But oddly enough, last month, a lot of information about Warp Speed started to come to light.
One was the organizational chart of its leadership, which showed that by and large, the entire operation is dominated by military. There were very few civilian health officials, and most of those civilian health officials are involved in the therapeutic side of Warp Speed, which as we know now is the most drastically underfunded part of this initiative.
It was initially given a $10 billion budget, and they've already spent $10 billion on the vaccine. Only $450 million have been given through Warp Speed to a therapeutics project, which of course we now know is Regeneron, which is allegedly what Trump received when he was at Walter Reed.
What I'm saying is that most, the vast majority, of the money and time and energy has gone to a vaccine specifically, not really therapeutics. And so, if you look at the organizational chart, the people that aren't directly deployed by the DoD or military intelligence were essentially put in the therapeutics part, which was drastically underfunded. It's focused largely on the vaccine.
What's also interesting is we know that Operation Warp Speed currently has about six vaccine candidates. And we know now that they plan to use them all, and that they plan to allocate a specific vaccine to specific populations — what they identify in their official guidance as critical populations — which they announced just a few days ago…"
"There are a lot of things in Warp Speed that are concerning. One of the things I read about recently is that Google and Oracle, two large tech companies that have longstanding ties to the CIA, are going to be involved in what they describe as a pharmacovigilance surveillance system, or what was more recently referred to by the head of Warp Speed as an incredibly precise tracking system, whereby everyone who receives one of these vaccines will be tracked and surveilled, not just to make sure that they get a second dose …
… but also to see what happens to people's physiology, because they admit that every single one of these vaccine candidates … has never been brought to market or licensed by the government before," Webb says.
Pharmacovigilance Surveillance
According to Webb, the plan is to monitor vaccine recipients for 24 months after the first dose. The question is, how do you monitor such a large population? One way would be to employ biosensors that collect and send biological metrics automatically…
"So, you have Google being contracted to monitor this pharmacovigilance surveillance system that aims to monitor the physiology and the human body for two years," Webb says.
"And then you have the ties to the ProfusA project, which oddly enough is supposed to work inside the human body for 24 months — the exact window they've said will be used to monitor people after the first [vaccine] dose."
Guinea Pigs 'R Us
In short, rather than doing long-term safety studies on both animals and humans beforehand, what's being put into place is a "safety study" after the fact, where vaccine recipients are monitored for side effects. Unfortunately, Warp Speed, being shrouded in secrecy, has not released details about what biological parameters would actually be monitored and surveilled. As noted by Webb:
"It really doesn't make sense, if you think about it, for something that … is funded by American taxpayers to produce a medical countermeasure or a vaccine [during] peace time, is being run by the military under extreme secrecy with a lot of involvement of intelligence contractors, or intelligence agencies themselves.
We now know, for example, that the NSA and the Department of Homeland Security are directly involved in Operation Warp Speed, but they won't really say exactly what parts they're doing. But there are some indications as to what they could be involved with.
And the fact that Silicon Valley companies that have been known to collaborate with intelligence [agencies] for the purpose of spying on innocent Americans — Google and Oracle, for example — are going to be involved in this surveillance system … for everyone that gets the vaccine.
It's certainly alarming, and it seems to point to the fulfillment of an agenda that was attempted to be pushed through or foisted on the American public after 9/11, called Total Information Awareness, which was managed, originally, by DARPA.
It was about using medical data and non-medical data — essentially all data about you — to prevent terror attacks before they could happen, and also to prevent bioterror attacks and even prevent naturally occurring disease outbreaks.
A lot of the same initiatives proposed under that original program after 9/11 have essentially been resurrected, with updated technology, under the guise of combating COVID-19."
Human Trials Reveal Plenty of Risk
Webb also discusses the vaccine trials currently underway around the world, and the fact that even though the vaccines are being given to perfectly healthy, younger individuals, they're reporting lots of side effects, including serious ones. Most recently, a volunteer physician in the Brazilian arm of AstraZeneca's trial died from receiving the placebo, which was not sterile saline but the meningitis vaccine.2
As detailed in "How COVID-19 Vaccine Trials Are Rigged," none of the vaccines are designed to actually prevent infection. The primary measure of success is whether or not the vaccine results in fewer symptoms when you're infected with SARS-CoV-2.
While the AstraZeneca trial initially stated the vaccine was being tested against a saline placebo,3 as I mentioned earlier, it's since been revealed that they're using the meningitis vaccine as the "placebo," which can help hide a variety of side effects. The study was not halted following that death, but it's already been paused twice due to unexpected serious illnesses. Both instances were deemed unrelated to the vaccine, of course.
"These are really things that have the potential to be very drastic because you have to consider that the sample sizes are quite small. [If] you extrapolate to the size of the U.S. population, potentially hundreds of thousands of people [may] suffer very adverse health effects," Webb says.
Why the Lack of Transparency?
Webb also points out that rather than being contracts between government and the vaccine companies, the vaccine contracts have been funneled via a third party. Why? One potential reason is because this exempts them from Freedom of Information Act requests. It also exempts vaccines made under those contracts from many federal regulations, including federal safety regulations.
"We also know, because of the changes HHS made per the Prep Act, that any person that produces a COVID-19 vaccine … associated with Operation Warp Speed will not be liable for any sort of damages it may cause.
And, it's definitely concerning that these vaccine companies, a lot of which just have atrocious track records, are being given billions of dollars and being allowed to operate under the utmost secrecy, developing something for the American public that can very well be mandated, or, for some people, even if it's not an official mandate, if they want to keep their jobs or they want to stay in school, they'll have to receive it anyway. So, it's definitely an issue that more people should be talking about."
Unfortunately, as mentioned earlier, it's extremely difficult to get this information out. YouTube, which is owned by Google, censors all of it. This is beyond questionable considering Google's involvement with Operation Warp Speed. In short, they're censoring to protect their own interests.
Laying Down Infrastructure for Totalitarian Control
As mentioned, 9/11 became the justification for a series of tyrannical control mechanisms in the form of the Patriot Act that stripped Americans of civil liberties and privacy.
Now, the COVID-19 pandemic, despite the fact that it hasn't resulted in an excess number of deaths above the historical norm for any given year, appears to be used as yet another excuse for the implementation of more tyrannical controls. It appears that what they're doing is laying down the infrastructure for a totalitarian control system set to be deployed later. Webb agrees, saying:
"I tend to agree with you in a big way, and I'll give you an example of an initiative that's being put out right now by HHS that they claim is about preventing coronavirus outbreaks before they happen, and how it plays into this longstanding effort to produce 'smart cities.'
HHS, a few weeks ago, issued a solicitation, which was given to this MIT spinoff company called Biobot Analytics. Essentially, they say it's to create a nationwide wastewater surveillance system where they will be robotically sampling sewage from various cities around the country.
They say that will be done to test for COVID-19 and use an AI algorithm to predictably determine if a COVID-19 outbreak will take place in the future, up to 11 days before symptoms would even allegedly begin to show in that particular population. They say that would be done to enable rapid containment of those communities before this alleged future outbreak could happen.
What you can see there, in my opinion, is what was previously trying to be sold to the public as predictive policing, but now it's sort of the predictive policing approach to healthcare. We have to prevent infection or prevent outbreaks before it happens, which obviously is rife for abuse by a government that is fundamentally corrupt and out of control.
If they wanted to lock down a particular community, all they have to say is, 'Our new surveillance system has identified, through this algorithm, that there will be an outbreak here in 11 days. So we have to shut everything down in this entire city.
What this wastewater surveillance system requires is sensors throughout a sewage system in a particular city, which is the underground infrastructure of what are often today called smart cities — cities filled with sensors that are united by the internet of things, 5G and Wi-Fi.
What's very alarming is that the developers chosen for this wastewater surveillance system come from a lab at MIT called Sensible City Labs, and it's not sensible. It's sensible [in that it's] able to be sensed. Essentially, MIT is a smart cities lab that was chosen by HHS to develop this under the guise of COVID-19.
And what is also alarming, in my opinion, is that this company has partnered with HHS before, not to predict coronavirus or to sample for coronavirus in wastewater, but to detect patterns of illicit drug use in certain populations, which dovetail with the war on drugs in the United States. Whether it has to do with opioids or marijuana use or any other illegal substance, it allows surveillance on what people are ingesting in a particular community.
They also talk about analyzing people's diets, what they're ingesting — if people are eating foods that the government has decided are associated with illnesses, they can see if too many people are eating the wrong foods and then accordingly ban those foods through a municipal or a statewide edict and things like that.
It's really a recipe for the micromanaging of regular human habits where the government was not previously involved …
[After] 9/11, the invisible enemy [was] these faceless terrorists abroad. Now, under coronavirus, the invisible enemy is a microbe that can exist anywhere, including within your own body. Therefore, to fight and win the war against the microbe we have to know what's going on inside of your body also.
And so, we're seeing the potential for the use of something like ProfusA and Operation Warp Speed, or this effort to surveil sewage, to determine what people are putting in their bodies. It's definitely a very slippery slope in what I would call the beginnings of a Biosurveillance state."
The Technocratic Underground
Indeed, it all appears to be part and parcel of a longstanding technocratic plan to govern society through technology, programmed by scientists and technicians and automated through the use of artificial intelligence, rather than through democratically elected politicians and government leaders.
Much of it is being developed and implemented in really underhanded ways. For obvious reasons, the true, long-term purpose is never actually admitted. For example, while smart cities have received public pushback, this plan to equip the sewage system with biosensors is essentially a way to build the system from below ground, up.
Since it's underground, people will be far less likely to object to it or understand it as an intrusion of privacy. Ultimately, topside technologies will be added in the form of smart homes, until people are living in smart cities whether they signed up for it or not.
Google's Transhumanist Goals
Webb also discusses the influence and role of Google in greater depth, including the current antitrust case filed against the company by the U.S. Department of Justice.
"There are a lot of things that Eric Schmidt has done over the years that are deeply concerning. He, and a lot of other people involved with Google, including Google's top futurist, as he describes himself, Ray Kurzweil, are very big proponents of what is often called transhumanism, this belief that it's the destiny of the human race, it will be the pinnacle of human evolution, to combine with machines and defeat death.
Schmidt is a person that certainly feels that way and was close with Kurzweil. Now he's in charge of the artificial intelligence modernization efforts of the government.
It's very, very disconcerting, especially when you look at a lot of the military's own modernization plans that are set to begin next year, with having an unprecedented role for artificial intelligence and targeting and flagging people that soldiers will then shoot with these augmented reality helmets the Pentagon has bought.
It's a lot of the Orwellian surveillance structure that we're seeing rolled out, whether through Warp Speed or by HHS under the guise of COVID-19 response, it definitely seems to dovetail significantly with plans that have been developed by people like Schmidt for the modernization of the U.S. government itself, particularly the national security state.
And I really don't think that there's much of a coincidence that those two things are happening in tandem."
Antitrust Case Against Google May Actually Benefit Them
As for the antitrust case against Google filed by the DOJ at the end of October 2020, 4 Webb doubts it will hurt the company. In fact, she suspects Google, just like the Rockefellers' Standard Oil, wants to be broken up in order to be able to expand into other markets.
"The government was able to look like they were actually doing something about Standard Oil, but actually Standard Oil wanted to be broken up. That allowed the Rockefeller family to extend their influence and reach … far beyond oil.
For example, they got involved with totally remaking Western medicine … and in shaping what we now know as Big Pharma … So, I think it's interesting that this is happening with Google now, and that it's only targeting Google's search monopoly, which is what Google began with.
But since then, Google's business has expanded far beyond search and they're poised to have a big role in upcoming health care initiatives, for example. I think they're ready to extend their tentacles, to use that metaphor, into a lot more different sectors, far beyond their search engine.
So maybe people would be assuaged publicly if they think, 'Oh yeah, Google has been taken down and broken up by the government,' when in reality they don't care about their monopoly on search anymore, and they're already too big to fail. I honestly think at the end of the day, a lot of this antitrust posturing towards Google, I don't really know if it will go anywhere," she says.
Data Is the New Oil
Webb also points out that Google's future is secured by its central and ever-growing role in data mining. Google will be harvesting brand new biological data through the upcoming Warp Speed surveillance system, and in September 2020, Google partnered with the Pentagon to develop predictive diagnostics for cancer using AI, which they intend to extend to other diseases as well, including COVID-19.
"There's this big push to create an all-powerful artificial intelligence algorithm in order to enable a lot of the functionality that they want to impose in smart cities and these other initiatives they've been putting forth.
In order to do that, they need access to data. That's why we've heard over the past couple of years that data is the new oil. It feeds back into this race to develop the greatest AI algorithm. This is very concerning when you look at the National Security Commission on AIs objectives.
They say the only way to maintain U.S. global military hegemony, and also economic hegemony, is to harvest more data than any of their adversaries' states from Americans in order to be able to develop a better AI algorithm before China can do the same.
That's what these very powerful and influential organizations are saying. And if you actually look at their documents, they essentially say that there needs to be a total remaking of Americans way of life to facilitate that type of data extraction from a smaller population than the Chinese population.
For example, more data needs to be harvested per American citizen in order to facilitate that leapfrogging of China's artificial intelligence. So, there is a lot to be concerned about, but I think a lot of people have declined to look at these commissions and institutions and what their thought process is …
And where they're going is nowhere good. It's essentially pointing to tyranny in a technocratic system that's not even governed by humans. It's governed by an algorithm created by man.
So obviously, it's a can of worms they're attempting to open, and the people that are behind this, whether the military and intelligence agencies, when they work in complete secrecy like they are in Warp Speed, they're historically up to no good … Historically they ruthlessly pursue their own ambitions at the expense of American interests. It's definitely worth considering all of these things."
Bioterror Predictions
Based on her research, Webb suspects there will be another phase to the COVID-19 pandemic, some sort of bioterror event, likely before April 2021.
"I don't have a lot of reasons to be optimistic about the plans there. If you look at the people that predicted the coronavirus crisis before it happened, they were also immediately positioned to benefit from that crisis as it emerged. Bill Gates, for example, in April said that the coronavirus crisis is Pandemic 1, and it will be followed by Pandemic 2, which … would be a bioterror event.
And the way to respond to this Pandemic 2 would be to do the same types of preparations you would do for bioterrorism. That's straight from Bill Gates … Gates [also] frequently … talked about the need to merge international security, i.e., U.S. foreign policy with health security, as he calls it, and essentially merge the war on terror with a war on bioterror."
She points out that Event 201, held by Gates, the World Economic Forum and Johns Hopkins in October 2019, featured a novel coronavirus. Was it really a coincidence that a novel coronavirus outbreak occurred 10 weeks later?
'Dark Winter' — The Signal for an Anthrax-Related Event?
An earlier tabletop pandemic exercise was done in June 2001. The simulation, called "Dark Winter," predicted major aspects of the subsequent 2001 anthrax attacks. During the last presidential debate, the Democratic nominee, Joe Biden, stated the U.S. is headed for a "dark winter" — an unusual phrase that raised questions among some commentators.
Before that, the former head of the Biomedical Advanced Research and Development Authority (BARDA) testified in front of Congress saying that this winter was going to be the "darkest winter" in modern U.S. history. Somehow, many plans actually seem to be signaled beforehand, if you're keen enough to pick up the cues. Interestingly, with regard to the "Dark Winter" reference and its anthrax connection:
"The Johns Hopkins center for health security has a sister organization at UPMC (University of Pennsylvania Medical Center) called the UPMC Center for Biosecurity, in Pennsylvania. They're currently, under the guise of coronavirus vaccine research, attempting to fuse anthrax with the coronavirus spike protein. They are also attempting to do the same for measles.
Those are essentially gain of function studies. The person that runs their center for vaccine research at UPMC is a major proponent of these gain of function studies. And when there was a gain of function moratorium, he was its most vocal opponent and was giving all these talks to government officials about how it needed to be lifted.
What's very odd about what's going on at UPMC is that in the beginning of the year they were set to produce what could have easily been the first coronavirus vaccine, a COVID-19 vaccine candidate, but it used traditional and tested vaccination methods that are already on the market …
Oddly enough after that had made some headlines … UPMC received a lot of money from CEPI [the Coalition for Epidemic Preparedness Innovations], which of course is backed by Gates, and as soon as that money was received, that vaccine candidate was quietly dropped, and in its place were these experiments to merge measles with the coronavirus spike protein, and then merge anthrax with that same spike protein.
'Dark Winter' may not mean much to the mainstream American public, but it certainly means something to the national security community when they hear that term being thrown around on TV. And then you have Bill Gates saying that after the coronavirus pandemic there's going to be a bioterror attack.
You also have the Council of Europe, a very influential and elitist think tank in Europe, saying that coronavirus will be followed by bioterror. High-ranking former CIA officials [are also saying it]. A lot of the people involved in Dark Winter in the biodefense industrial complex, which was created after the 2001 anthrax attacks, are all saying the same thing.
We really need to start listening to these people. Of course, they in advance have a narrative they create, not unlike the Dark Winter 2001 exercise itself, which initially claimed that the anthrax attacks were committed by Iraq working with Al-Qaeda. And then lo and behold it's traced to the U.S. military (at Ft. Detrick) so obviously it did not come from Iraq or from Al-Qaeda.
What you have now are attempts to seed the similar narrative about who will be blamed for events upcoming in the future. They set it up on purpose, I would argue, so that when the event takes place, people are more receptive to those predetermined narratives about this particular crisis and don't immediately start questioning what could have happened.
They essentially want these events to take place. They want to ramp up the fear, and then they want to conveniently tack blame to something very quickly before an actual thorough investigation can take place. That's what we saw in the aftermath of September 11 and also in the aftermath of the 2001 anthrax attacks."
Be Ready, but Not Fearful
If you listen to the interview in its entirety, you'll have a good idea of why I'm so impressed with Webb's investigative skills. It's important to become educated about what's really happening so that you don't capitulate to the fear they're seeking to imbue in us.
It's a fearful public that allows the technocratic elite to dictate the future and rip away our personal freedoms. It's fear that allows tyranny to flourish. Remember, there are more of us than there are of them. But enough of us must be willing to stand up and say no, we won't accept this plan.
On another level, being aware of the plan allows you to plan for your own safety and security ahead of time, so you're not running around in a panic when something does happen. As the old saying goes, "Being forewarned is being forearmed."
To find more of Webb's work, be sure to check out her website, unlimitedhangout.com. You can also find her videos by searching Bitchute, and she has her own podcast channel called Unlimited Hangout on Rokfin.com. Warp Speed reporting can also be found on thelastamericanvagabond.com. At present, Webb is also still on Twitter @_whitneywebb.
Dana Ashley reveals Trump's Hypocrisy
"Before the election Trump said Hillary Clinton should go to jail. After the election, he said that "we owe her a major debt of gratitude for her service to our country." This is blatant hypocrisy. Furthermore an election can have been rigged according to a computer programmer who testified before Congress. Eugene Curtis, states in 2000 the company he works for has developed a program to change the vote count in the election computer." Dana Ashley
Dana is a devoted Christian so she tosses in her interpretation of Revelations. I'm not a Christian and I don't agree with her predictions. However I find her research to be sound and so I have included her video. Near the end of her video she has a story about how 5G in a school adversely affected a student who now can hardly walk or talk now. 5G technology can transmit many different frequencies. One can produce Covid-19 symptoms, others can cause neurological damage and another can cause death. The Trump administration fast tracked the deployment of 5G months ago. She also reveals that the slogan Make American Great Again or MAGA is the name used for a person that is at the highest level of the Satanic hierachy. This slogan was also used by Clinton and Reagan.
My opinion of the election is that it is political theatre at its best. A rigged contested election to create the greatest amount of anxiety, chaos, and animosity between democrats and republicans.
Why Trump will Win… Dana Ashlie Bitchute Nov 2, 2020.https://www.bitchute.com/embed/D2w26V1nkqRY/?feature=oembed#?secret=HZ8gvZz3HC
Of course we should not overlook the many books written about Trump that expose his real character.
Excerpts
In this revelatory, authoritative portrait of Donald J. Trump and the toxic family that made him, Mary L. Trump, a trained clinical psychologist and Donald's only niece, shines a bright light on the dark history of their family in order to explain how her uncle became the man who now threatens the world's health, economic security, and social fabric.
Mary Trump spent much of her childhood in her grandparents' large, imposing house in the heart of Queens, New York, where Donald and his four siblings grew up. She describes a nightmare of traumas, destructive relationships, and a tragic combination of neglect and abuse. She explains how specific events and general family patterns created the damaged man who currently occupies the Oval Office, including the strange and harmful relationship between Fred Trump and his two oldest sons, Fred Jr. and Donald.
Other books that are critical of Trump are,
The Cult of Trump: A Leading Cult Expert Explains How the President Uses Mind Control – October 15, 2019 by Steven Hassan. The Cult of Trump is an accessible and in-depth analysis of the president, showing that under the right circumstances, even sane, rational, well-adjusted people can be persuaded to believe the most outrageous ideas.
Authoritarian Nightmare: Trump and His Followers by John W. Dean and Bob Altemeyer. August 25, 2020. Relying on social science findings and psychological diagnostic tools (such as the "Power Mad Scale" and the "Con Man Scale"), as well as research and analysis from the Monmouth University Polling Institute (one of America's most respected public opinion research foundations), the authors provide us with an eye-opening understanding of the Trump phenomenon — and how we may be able to stop it.
Tower of Lies: What My Eighteen Years of Working With Donald Trump Reveals About Him November 30, 2020 by Barbara A. Res. Barbara A. Res worked directly with Donald Trump for eighteen years on some of his biggest projects and had nearly unlimited access to him. Trump selected Res to be in charge of construction of Trump Tower, his greatest success as a developer. In this insider's look at how the ambitious real estate developer became the most divisive president in recent U.S. history, Res takes us into closed-door meetings, boardrooms, limo rides, and helicopter flights to really understand what makes him tick and shows us why his claim to be a great dealmaker and savvy businessman is just a mirage.
Unholy: Why White Evangelicals Worship at the Altar of Donald Trump May 26, 2020 by Sarah Posner. "In terrifying detail, Unholy illustrates how a vast network of white Christian nationalists plotted the authoritarian takeover of the American democratic system. There is no more timely book than this one."—Janet Reitman, author of Inside Scientology.
Why did so many evangelicals turn out to vote for Donald Trump, a serial philanderer with questionable conservative credentials who seems to defy Christian values with his every utterance? To a reporter like Sarah Posner, who has been covering the religious right for decades, the answer turns out to be far more intuitive than one might think.
The Strange Case of Donald J. Trump: A Psychological Reckoning by Dan P. McAdams. 2020 The Strange Case of Donald J. Trump provides a coherent and nuanced psychological portrait of Donald Trump, drawing upon biographical events in the subject's life and contemporary scientific research and theory in personality, developmental, and social psychology.
Here is another reason Trump can't be trusted.
QAnon Is A Fake, Decoy Imitation Of A Healthy Revolutionary Impulse
Thursday, 20 August 2020, 4:25 pm
Opinion: Caitlin Johnstone
Today the US president moved from tacit endorsement and evading questions on the toxic QAnon psyop to directly endorsing and supporting it, telling reporters "I don't know much about the movement other than I understand they like me very much, which I appreciate," and saying they're just people who love their country and don't like seeing what's happening in places like Portland, Chicago and New York City.
Asked about the driving theory behind QAnon that Trump is waging a covert war against a satanic pedopheliac baby-eating deep state, Trump endorsed the idea but reframed it by saying that he's leading a fight against "a radical left philosophy".
"If I can help save the world from problems, I'm willing to do it. I'm willing to put myself out there," Trump said in response to the query. "And we are actually. We're saving the world from a radical left philosophy that will destroy this country, and when this country is gone, the rest of the world would follow."
Of course Trump did not claim to be fighting any satanic pedovores, because he is doing nothing of the sort. Nor is he fighting the deep state; despite all the virulent narrative spin he's been a fairly conventional Republican president in terms of policy and behavior in all the usual depraved and disgusting ways, and has done nothing of note to stand against the unelected power establishment known as the deep state. He absolutely has been brutalizing protesters in places like Portland and attacking socialism in places like Venezuela and Bolivia, though, so he can indeed safely admit to that.
The disingenuous nature of Trump's endorsement hasn't done anything to dampen the excitement and enthusiasm of QAnoners online, though.
He basically confirmed the movement. We, together with the US military, are the saviors of mankind.
What an incredible time to be alive. pic.twitter.com/O5O6rt5TAE
— Sokrates (@Sokrates_17) August 19, 2020
I write against QAnon periodically for the exact same reason I write against the plutocratic media: it's an obvious propaganda construct designed to manufacture support for the status quo among people who otherwise would not support it. It presents itself as an exciting movement where the little guy is finally rising up and throwing off the chains of the tyrannical forces which have been exploiting and oppressing us, yet in reality all it's doing is telling a discontented sector of the population to relax and "trust the plan" and put all their faith in the leader of the US government.
And that's exactly what makes QAnon so uniquely toxic. It's not just that it gets people believing false things which confuse and alienate them, it's that it's a fake, decoy imitation of what a healthy revolutionary impulse would look like. It sells people on important truths that they already intuitively know on some level, like the untrustworthiness of the mass media, that the official elected US government aren't really the ones calling the shots, and we need a great awakening. It takes those vital, truthful, healthy revolutionary impulses, then twists them around into support for the United States president and the agendas of the Republican Party.
And now literally any time I speak out against Trump doing something self-evidently horrible like orchestrating the extradition of Julian Assange or assassinating Iran's top military official, I get QAnon adherents in the comments section telling me to "relax" and "trust the plan" because this is actually a brilliant strategic maneuver against the deep state. Any argument against any longstanding evil Fox News Republican agenda that Trump advances has a widely promulgated explanation for why it's actually good and beneficial among the QAnon crowd.
A healthy impulse to fight the power is twisted into support for the most unconscionable aspects of the ruling power establishment. You see healthy impulses twisted and corrupted like this all the time, all across the political spectrum. The healthy impulse to fight racism and bigotry is twisted into support for the warmongering, oppressive and exploitative Democratic Party which is nothing but destructive toward the populations it pretends to protect. The healthy impulse to defend the helpless and fight tyranny is railroaded into support for acts of regime change "humanitarian" interventionism.
How You Can Be 100% Certain That QAnon Is Bullshit
"Here are three reasons you can be absolutely, 100 percent certain that it's bullshit:" #QAnon#WWG1WGA#Q#MAGAhttps://t.co/qAxdiItXFO
— Caitlin Johnstone
(@caitoz) May 26, 2019
The fact that people need to be deceived by their healthy impulses in this way is a good sign; it means we're generally good people with a generally healthy sense of which way to push. If we were intrinsically wicked and unwise their propaganda wouldn't hook us by telling us to fight tyranny, defend children and tell the truth–it would hook us using our cowardice, our hatred, our greed, our sadism. People are basically good, and propagandists use that goodness to trick us.
But good will and good intentions aren't enough, unfortunately. Even intelligence, by itself, isn't enough to save us from being propagandized; some fairly intelligent people have fallen for propaganda operations like QAnon and Russiagate. If you want to have a clear perspective on what's really going on in the world you've got to have an unwavering devotion to knowing what's true that goes right down into your guts.
Most people don't have this. Most people do not have truth as a foremost priority. They probably think they do, but they don't. When it comes right down to it, most people are more invested in finding ways to defend their preexisting biases than in learning what's objectively true. If they've got a special hatred for Democrats, the confirmation biases that will give them leave them susceptible to the QAnon psyop. If they've got a special hatred for Trump, they're susceptible to believing he's controlled by some kind of Russian government conspiracy. There are any number of other directions such biases can carry someone.
Only by a humble devotion to truth that is willing to sacrifice any worldview or ideology to the uncompromising fire of objective reality can skilfully navigate through a world that is saturated with disinformation and propaganda. Sincerely put truth first in all things while doing your best to find out what's actually going on in our world, and eventually you're guaranteed to free yourself from any perceptual distortion.
Donald Trump did not successfully combat sex trafficing while he was POTUS.
'I Thought I Was Going to Die.' How Donald Trump's Immigration Agenda Set Back the Clock on Fighting Human Trafficking
https://time.com/5905437/human-trafficking-trump-administration/
Emma, a human trafficking survivor from China, in a hotel room in Gaithersburg, MD on Feb. 25, 2020.
Gabriella Demczuk for TIME
OCTOBER 30, 2020 10:41 AM EDT
Emma remembers most of all the pressure in her chest as she struggled to breathe. For at least an hour, she and two other women were packed into a wooden box, one on top of the other like animals to slaughter, in the back of a truck as it crossed the border from Mexico into the United States. Her clothes were soaked through with sweat, her leg cramped from twisting to fit on top of the woman below, and her lungs ached from the weight of the woman lying above her. "I thought I was going to die," she says, wiping away tears. Nearly a year later, the memory still makes her small frame recoil.
The 45-year-old never expected to end up trapped in an international human trafficking operation. Just a few weeks earlier, Emma had boarded a flight in Beijing that she thought would lead her to a new life in the U.S. The past few years had become intolerable for her in China. She'd fallen for a business scam, gotten into debt, and become the target of loan sharks, who dumped feces and animal blood at the beauty shop where she worked in Guangxi, China. They threatened her so often that she went into hiding at her sister's house.
She'd applied twice for a tourist visa to the U.S., but was rejected, so she took an acquaintance's advice and went to an office in the neighboring province of Guangdong. There, a man said he could help her. He told her that he could get her a Japanese visa that would allow her to enter Mexico, and that people there would then help her cross the border to the U.S. and find a job. To Emma, who had a high school education and did not speak English, the deal sounded like her best option, even if the details were sparse and the price was steep: the man was asking 200,000 yuan or nearly $30,000. "There's nothing worse" than the life I'm living, she remembers thinking.
As it turned out, there was. After Emma arrived in Mexico in spring 2019, nothing went as she had expected. Her terrifying journey in the box in the back of the truck ended in Los Angeles and later, she was transported to Bowling Green, Ky., where she was tricked into working at an illicit massage parlor. Soon, she was being pressured by her boss to do whatever the customers asked for. She paid $10 a day to sleep on a single mattress on the floor in a back room of the parlor and cooked all her meals on a hot plate, constantly monitored by security cameras mounted around the store. Emma could earn tips by serving clients sexually, but otherwise she received only $20 of the $60 customers paid for her services.
Emma had no one to call for help. She knew nobody in the U.S., was unfamiliar with the immigration system, and she was terrified to stray too far from the massage parlor. Her boss had told her repeatedly that if American police saw her outside of the parlor, they would "execute" her. "You're illegal. You're like an ant," Emma says her boss told her. "If you get killed by the police, nobody knows who you are anyway."
In July 2019, Kentucky investigators raided the massage parlor where Emma was working and living. When they discovered her, she was so traumatized that she could not stop crying. But she answered all the questions local police and Kentucky state investigators asked and, later, she was connected with an organization that helps survivors of human trafficking. Advocates offered her safe housing, counseling and lawyers that would guide her through the steps required to remain legally in the U.S.
But more than a year later, Emma is still in limbo. The federal government hasn't processed her application for a special visa meant for human trafficking victims and in the meantime, she has no legal status, no authorization to work, and must, by necessity, remain in the margins of society. Because of her vulnerable situation, she asked TIME to be identified as Emma, which is not her real name.
Emma's experience has become increasingly common under President Donald Trump, who has put fighting human trafficking among his top priorities. His daughter and White House adviser Ivanka made the issue one of her key causes, giving it frequent White House attention, and just this month, the Department of Homeland Security announced it had launched a new Center for Countering Human Trafficking to bring together law enforcement officials and staff from across the agency to work on human trafficking investigations. In January, at a White House summit during "National Slavery and Human Trafficking Prevention Month," Trump championed his Administration's work. "I have never seen such enthusiasm for a single issue as I have for human trafficking," he said.
President Donald J. Trump signs an Executive Order for Combating Human Trafficking and Online Child Exploitation in the United States, at the White House Summit on Human Trafficking on Jan. 31, 2020.
Sipa
Counter-trafficking lawyers, victim advocates, and former Trump Administration officials offer a starkly different perspective. They say that by cracking down on all forms of immigration, including legal and humanitarian avenues, the Trump Administration has made the work of preventing human trafficking more difficult in key and measurable ways. Specific policy changes across a variety of federal agencies, including the Departments of Homeland Security, State and Justice, have increased barriers to victim protections, complicated investigations into trafficking networks, and warped Americans' perspectives of what the problem looks like. Those harms, counter-trafficking experts say, will be hard to reverse, even if Trump's not reelected this year.
"What we'll see is a decade of lost ground in addressing human-trafficking in the United States," says Jean Bruggeman, executive director of Freedom Network USA, the country's largest coalition of anti-trafficking service providers and advocates. "We've got at least four years, if not eight, of harmful policies that are making it easier for traffickers,pushing survivors further into the shadows and causing service providers who are most likely to be able to identify trafficking victims to not trust federal agencies."
Bruggeman says she had been used to having good relationships with staff across the federal government. But under the Trump Administration, she found meetings were often one-sided; she and several other major anti-trafficking groups boycotted the January White House summit. Ultimately, she says, "this government has chosen to ignore the needs of survivors and to reward traffickers."
Policy changes exacerbate the trafficking problem
Human trafficking is one of the world's fastest growing criminal industries and one of the most difficult crimes to stop. It unfolds in the shadows, preys on victims who are already marginalized by society, and takes many, disparate forms. Polaris, an anti-trafficking group that operates the U.S. national human trafficking hotline, identifies 25 types of trafficking that span a wide range of industries, from restaurant and food service to factories, manufacturing, and beauty and illicit massage. Victims are recruited in a variety of ways as well. Most are recruited through intimate partners, by family members, or by someone promising a job that turns out not to be legitimate, according to data gleaned from Polaris's help hotline.
Emma falls into that third category, and the nearly $3 billion-a-year illicit massage industry, where she ended up, is one of the largest and most networked trafficking markets in the U.S. There are more than 10,000 illicit massage businesses across the country, according to Heyrick Research, an intelligence-driven research organization focused on human trafficking. From the outside, these businesses look unremarkable. They're often out in the open, in strip malls or on street corners, hidden by anodyne storefronts. But the sex work or forced labor that happens inside can be difficult for law enforcement to prove.
"Trafficking cases often include psychological coercion, threats of violence that are not written down," Bruggeman says. "There's not a large paper trail for a lot of this."
In Emma's case, her boss trapped her at the massage parlor not with physical shackles, but with fear of deportation or death. She told Emma that if she did not perform the sexual acts requested of her, the clients would call the police. Emma did refuse to engage in many activities, and some clients grew violent, pulling her hair, trying to force her to touch them anyway, or demanding their money back. When she complained, Emma's boss suggested she move to another massage location in the area, a tactic that experts say traffickers often use to keep their illegal businesses from being detected. Investigators believe that Emma's boss was involved with multiple illicit massage parlors and was part of a larger trafficking network. The investigation is ongoing.
For years, law enforcement officials nationwide have touted raids on illicit spas and massage parlors as part of the state and federal government effort to crack down on trafficking. The issue received renewed attention in February 2019 when Robert Kraft, the New England Patriots owner and Trump ally, was charged with paying for sex acts at a spa in Jupiter, Fla. But the charges against him were dropped this fall—an outcome that experts say is not uncommon. Raiding an illicit massage parlor is one thing; successfully prosecuting wealthy people who patronize the parlors, or even more crucially, the organizations who facilitate the trafficking, is the real challenge.
Overcoming that challenge often means that law enforcement officials must recruit the help of victims themselves. In many cases, only victims can identify the sometimes-vast roster of traffickers, including, for example, massage parlor managers, owners, and the teams of drivers and coordinators who transport workers between locations. "Law enforcement really depends on survivors being able to tell them what happened and explain where it happened and when it happened," Bruggeman says. "Then they can find evidence to corroborate all of that."
But convincing victims to cooperate with police or investigators is difficult. When police find potential victims, they are often terrified of law enforcement officials. That's particularly true in instances where police are also charging the victims with other crimes, like prostitution or entering the country illegally. Even in cases where victims want to cooperate, they're often psychologically traumatized, so it can take time for them to remember all the details of what happened to to them, experts say.
"If you get killed by the police, nobody knows who you are anyway," Emma says her boss told her repeatedly.
Gabriella Demczuk for TIME
In 2000, Congress passed the Trafficking Victims Protection Act (TVPA)—the signature federal legislation on human-trafficking—in part to address precisely this issue. One of the law's key features was that it established a framework of "protection, prosecution and prevention": the understanding is that law enforcement must protect and collaborate with survivors, rather than imprison or prosecute them, in order to prevent future trafficking. The T visa, which was created by the TVPA, was a crucial tool in this effort. It allowed noncitizen trafficking victims who were assisting law enforcement with an investigation to remain in the U.S. for a period of time with work authorization and benefits.
"In the years before the Trafficking Victims Protection Act was passed, trafficked clients, if I encountered them, they'd fall through the cracks," says Kathleen Kim, a professor at Loyola Law School in Los Angeles and an expert on human trafficking. "There was no social safety net, there was no infrastructure to keep them afloat while advocates were working on their behalf to gain protection and benefits for them from the government." The T visa also enables lawyers and advocates to help survivors transition to more stable environments, where they are less vulnerable to further exploitation.
These efforts to encourage human trafficking victims to cooperate with local, state, and federal law enforcement officials has been complicated by Trump's immigration agenda. In November 2018, the Trump Administration announced that people denied a T visa may be issued a notice to appear in immigration court, beginning deportation proceedings. The move had an immediate chilling effect on human trafficking victims' willingness to help police, lawyers and advocates say.
At the same time, the Administration made actually applying for or receiving a T visa even harder. Fee waivers on supplemental documents that used to be approved are now routinely denied, and applications are now adjudicated more strictly, multiple anti-trafficking experts and victims' lawyers say. For example, the U.S. Citizenship and Immigration Services (USCIS) now frequently requests further evidence that a person was indeed trafficked or that their trafficking history is the reason they are still in the U.S. Producing that kind of documentation can be nearly impossible for real human-trafficking victims, human trafficking experts say. Emma, for instance, has no written contract spelling out the intentions of the man at the Guangdong office or with the men who put her in a box in Mexico. When she arrived in Kentucky, she was paid in cash. The orders she received from her boss were verbal.
Daniel Hetlage, a USCIS spokesperson denied that requirements, eligibility criteria or the adjudication process for the T visa program had changed. "USCIS remains committed to protecting the integrity of our immigration laws and ensuring they are faithfully executed," he said in a statement, adding that those denied T visas "may appeal adverse decisions."
Advocates say the proof is in the numbers. The processing time for T visas has grown from an average of 7.9 months in 2016 to a current estimate of up to 2.4 years. The U.S. now has the largest backlog of pending T visa applications and the largest number of denials in the program's history, as well as the lowest number of approvals in a decade, according to USCIS data.
Martina Vandenberg, founder and president of the Human Trafficking Legal Center, says the process of applying for a T visa was never seamless, but the past few years have been an anomaly. "Before we had six to 12 months to wait, but it was a waiting period that was tinged with hope," she says. "Now it's a waiting period tinged with fear." Her organization informs trafficking victims that if they apply for, but are denied, a T visa they could be deported and then lets them decide how to proceed, she says. Since the Trump Administration's 2018 policy change, her clients have chosen not to take the risk: she has not applied for a single new T visa in nearly two years. Without this protection, victims are better off simply disappearing into the country: without a path to legal status, employment, or benefits, why risk collaborating with law enforcement?
Those who work to counter human-trafficking say the Trump Administration has made their work more difficult in other ways, too. In 2018, the Justice Department released its applications for grants provided by the Office for Victims of Crime (OVC), but included new restrictions on how organizations could use that funding. Legal aid and victims service organizations that had previously used the OVC grants to help clear victims' criminal records, for example, could still apply but would not be allowed to use funds for that purpose. Advocates say that prohibition was counterproductive: it had the effect of making victims even more dependent on those exploiting them. Traffickers often force victims to commit crimes and then use those criminal records as leverage: people with criminal records are much less likely to report crimes or cooperate with police, and if they escape their situation, they're less likely to be able to find work, housing, or otherwise be able to live independently. This year, the OVC grants did not include the restriction on vacating criminal records, but the change was never explained, and advocates say other irregularities with the grant-making process continue.
"The Trump Administration's immigration policies have made foreign trafficking victims' lives more dangerous. Those policies have made it more difficult to escape. And those policies have made it more difficult to obtain relief," Vandenberg says. "Trafficking victims are living in terror."
Emma landed in the middle of this policy shift. In her case, the Bowling Green police, working with investigators from the Kentucky Attorney General's Office, discovered her after the raid on the massage parlor. They contacted Kathy Chen, a contractor at Heyrick Research who served as an interpreter. Emma was terrified but determined to stop the people who had trafficked her, so she agreed to help the police. "What they always want to look for is, who trafficked you, who is behind this," says Chen, of the investigation into Emma's case. The Kentucky Attorney General's office declined to comment on the ongoing investigation, but said that whenever it helps local law enforcement with sex or labor trafficking cases, its staff "undertake investigations from a victim-centered approach to ensure crime victims do not experience additional trauma."
Emma later learned that law enforcement could help her apply for what's known as Continued Presence, a status designed to help victims stay in the U.S. if they might serve as a witness in an investigation. She also applied for a T visa specifically for trafficking victims. In December, Emma's request for Continued Presence was denied without explanation. Her T visa application is still pending.
Attorney General William Barr and advisor and daughter of the president Ivanka Trump lead an event to highlight the Department of Justice grants to combat human trafficking in Washington D.C. on Aug. 4, 2020.
Drew Angerer—Getty Images
Trump's corrosive rhetoric
Since entering the White House, one of President Trump's primary agenda items has been cracking down on people entering the U.S., both legally and illegally. As part of that effort, his Administration has ended Temporary Protected Status for hundreds of thousands of immigrants from countries with dangerous conditions; slashed the cap on refugees to a historic low; and forced asylum seekers to wait in Mexico.
But his influence has also been more subtle: he has distorted the national conversation about immigration by repeatedly caricaturing immigrants as gang members, criminals, and drunk drivers, while simultaneously promoting dramatic narratives about child sex trafficking, which play directly to Trump's political base. Child exploitation has long been a particular concern among evangelical Christians, who have remained firmly in Trump's camp throughout his time in office. More recently, the issue has served as a key force behind the rise of QAnon, the baseless conspiracy theory that claims Trump is fighting a deep state cabal of elites who are running a worldwide child sex trafficking ring. Trump has pointedly refused to condemn QAnon and at NBC's town hall this month, lent credence to the group's delusions, saying, "they are very strongly against pedophilia."
Child sex trafficking is a real issue, but advocates say that the Administration's rhetoric, backed with conspiracy-drenched claims, makes the actual work of preventing trafficking—of children and adults—even harder. Earlier this year, for example, QAnon believers, enthralled by a fictionalized threat, overwhelmed Polaris' national trafficking hotline with calls about the false story that online furniture retailer Wayfair was trafficking children. The overwhelming volume of calls made it nearly impossible for Polaris to address and aid real victims in dangerous situations. In July, Polaris's leadership grew so frustrated that it put out a statement encouraging people to "learn more about what human trafficking really looks like in most situations."
Trump's QAnon-fueled narrative, experts explain, has the effect of warping how people understand human-trafficking, making it harder for people to identify and prevent. "His emphasis on child sex trafficking occurs at the neglect of human trafficking at large and human trafficking as defined as a more complicated sociological phenomenon," says Kim, the professor at Loyola Law School.
The narrow, fictional QAnon narrative also advances Trump's incorrect suggestion that the victims of immigration crimes are Americans, and implicitly white, Kim says. Trump often conflates undocumented immigrants with traffickers and smugglers, and fans his supporters' fears that their loved ones will be killed, raped or snatched away by a shadowy foreigner. That cartoonish narrative papers over a much more complex problem. There is no comprehensive national source of data on human trafficking victims, but experts say the majority of victims are recruited by people they know, and typically come from already vulnerable populations. People of color are disproportionately impacted by labor and sex trafficking, according to Polaris. "My concern," says Kim, "is that the stronger the influence of QAnon becomes stronger the influence of white supremacy becomes."
'Stephen Miller won't let it be solved'
People within the Trump Administration have raised similar concerns. Back in June 2018, when Elizabeth Neumann was the assistant secretary for threat prevention and security policy at the Department of Homeland Security, then-Secretary Kirstjen Nielsen tasked her with developing a new strategy on fighting human trafficking. When Neumann met with anti-trafficking groups and learned about the topic, she says it quickly became apparent to her just how much the Administration's immigration posture was hampering the fight against trafficking. In particular, she says, the Administration's goal of limiting overall immigration and Immigrations and Customs Enforcement's (ICE) intense focus on eliminating fraud, were creating a chilling effect on noncitizen human trafficking victims.
Neumann says she tried to raise the issue with policy officials at ICE, but the discussions didn't go anywhere. She also tried to get recommendations into DHS's strategy report on the topic, but when discussions became too heated, she settled for putting higher level language about victim-centered approaches in the strategy document. She figured she and the other officials would "fight all of this out" during the strategy's implementation. But that never happened. Plagued with chronic understaffing and constant turnover, DHS failed to publish Neumann's strategy report until January 2020. Four months later, she quit, unable to reconcile her own beliefs with Trump's actions and rhetoric, which she says was emboldening white supremacists. (She has since appeared in a video produced by Republican Voters Against Trump, saying she is voting for Joe Biden this year because the country cannot afford four more years of Trump.)
A DHS spokesperson said the idea that the Trump Administration has made it more difficult to prevent human trafficking is "ludicrous" and pointed to its new center on trafficking. But the spokesperson did not answer specific questions about the strategy report or concerns raised by Neumann and anti-trafficking advocates. "The Trump administration has made the historic fight to end human trafficking a top priority," the spokesperson said.
The State Department's annual Trafficking In Persons reports from recent years, which evaluate the human trafficking landscape and efforts to combat the crime in countries around the world, corroborate some of Neumann's concerns.
Emma says she hopes that law enforcement officials will catch the people who trafficked her, so "they do not continue to lie to the innocent people."
Gabriella Demczuk for TIME
Human trafficking prosecutions and charges fell in 2018 and 2019, and T visa approvals have fallen all three years so far under Trump, according to the most recent Trafficking in Persons reports. The reports are also full of notes about areas that advocates see as needing improvement, from immigration deterrents to victims being arrested for committing sex acts or other crimes their traffickers compelled them to do. In July, Mark Taylor, a former State Department official who coordinated the reports from 2003 to 2013, wrote an op-ed in the Bangkok Post condemning the Trump Administration's actions and arguing that by continuing to rank itself a Tier 1 nation, the highest designation for counter-trafficking, the U.S. was undermining its own credibility. (The State Department declined to comment for this article.)
Neumann says she and many of her colleagues understood the dilemma they were in: the work of countering human-trafficking was being subjugated to a broader agenda, perpetuated by President Trump and Stephen Miller, a long-serving top advisor who has pushed the Administration's most extremist immigration policies. "We would go to these meetings with [the Department of Justice] and State and sometimes the White House, and everybody would be looking at this problem going like, 'We've got to get these T visa numbers up,'" Neumann says. "You're kind of looking around the room going, 'Hey, everybody understands that in this Administration this problem will never be solved because Stephen Miller won't let it be solved."
'What's going to happen to me?'
Emma, who is just learning how to navigate her adopted country, isn't privy to most of the details of these Ivory Tower policy discussions. But the implications of Trump's policies in her daily life are crystal clear: because of delays seemingly designed to deter new T visa applications and reduce the total number offered each year, she finds herself in a prolonged legal purgatory. Until a decision is issued on her case, she has no legal status, no access to benefits, like Medicaid, and no work authorization. She's also been given no indication of when the government will give her an answer. If she is eventually granted a T visa, she could be allowed to stay in the U.S. for up to four years, and could be eligible to apply for permanent status. If her application is denied, she could begin deportation proceedings.
The indecision puts her in an impossible position. After the raid last summer in Kentucky, Emma found a job as a live-in housekeeper in Maryland with a family that did not ask about her legal status. But when COVID-19 hit in March, Emma panicked. "What if I contract the disease, what is going to happen to me? What about health care?" she thought. "What if I die alone?" She had a conversation with the man she'd been dating and the two of them decided she'd move in with him so they could be together, and she would not have to keep working and expose herself to COVID-19. She is much happier now, she says.
After years of harassment and trauma, Emma would like to stay in the U.S. permanently. She dreams of maybe opening her own beauty store one day if she can get legal status. But in the meantime, she is hoping that her own personal nightmare will help law enforcement officials. She wants them to find and punish the network that exploited her so that "they do not continue to lie to the innocent people," she says. "They shouldn't let innocent people be cheated and forced to do things that they don't want to."
Now do you have a better concept of who Donald J. Trump really is?
Update June 20, 2021
Excerpts from:
Pharmacist Quits CVS Job Over Refusal to Kill People with COVID-19 Shots and Becomes a Whistleblower
by Brian Shilhavy
Editor, Health Impact News
CVS was advertising for the longest time for PRN casual pharmacists. They were advertising paying $6500 a week to pharmacists who would come on board and go to old folks' homes and kill them. Or I mean give them the "vaccine."
$6500.00 a week! So that's $6500.00 a week, per pharmacist per neighborhood area, per community, per city, per region, per county, per state, for the whole United States.
So for "casual labor" do you think that's coming out of their own pocket? They're not going to do it unless they are getting a lot of money from the government to make sure that they fulfill their contractual duty with the government in getting this distributed and into people.
This is mainly a result of President Trump's Operation Warp Speed from last year, that gave a blank check to Big Pharma to distribute these injections that many doctors and scientists are now calling "bioweapons." He gave them $TRILLIONS to spend, and to this day he is very proud of this fact, and mentions it every chance he gets.
This is where states are getting their millions of dollars to entice people to get the shots with lotteries, free beer, free marijuana, and many other incentives, along with a $BILLION dollar advertising campaign designed to use propaganda to fool the public into believing that these shots are safe and necessary to "return to normal."
Update December 31st, 2021.
Proceedings have begun to impeach Joe Biden. But will Donald Trump be a better president? Recently Trump has been bragging about how he was able to cleared the way for the vaccine to be developed in only eight months that has killed more people than the virus.
Trump's indefensible promotion of suicide shots
Thursday, December 30, 2021 by: News Editors
Tags: badhealth, COVID, Donald Trump, President Trump, propaganda, vaccine, vaccine injury, vaccine wars, vaccines

Bypass censorship by sharing this link:
https://www.afinalwarning.com/581890.html
(Natural News) Trump's Indefensible Promotion of Suicide Shots
(Article by Dustin Nemos republished from NemosNewsNetwork.com)
"I know many people are weaving long threads and posts telling you Trump is playing 4d Chess. Consider the points above when you read them. And maybe even call them out by sharing this."
What could make the MAGA Movement turn on Trump, even booing him numerous times at his own wildly popular events?
I used to be Trump's most ardent supporter. I helped launch what we today call "The Great Awakening" A worldwide political movement, by constantly rebutting fake news and defending Trump against the vicious and unfounded lies of the deep state. But lately I've been having my doubts since he began to promote the vaccine, and my final straw was when he promoted the booster poison. And I am not alone.
Arguments for Trump, Rebutted:
"He's using misdirection cause they made fun of him"
– They make fun of him anyway. They called him "Literally Hitler" for years. What worse can they do?
"He's using misdirection because they banned HCQ last time he resisted the Vax"
– They banned Ivermectin anyway, despite him not having been promoting it. Nonsensical defense of Trump.
"He's using misdirection because he's playing 4d Chess"
– And killing babies with his terrible booster promotion, babies I report on almost every single video dying from bleeding from the mouth after being born, or dying of seizures and heart attacks after drinking mommy's milk. Do you have children? What 4d Chess gain is worth it? What did we GAIN from this? Was it worth the price paid in dead babies ?
"They would have shut down the economy for years if he hadn't gone along with it."
– They shut down the economies everywhere (that they could) anyways. So we didn't avoid it. This argument makes no sense. I wish they had shut down the economy for 10 years instead of poisoning half the world. By year 2 everyone would have rebelled as no one was dying and they would have been fed up. Instead everyone is dying from Variants caused by the vaccines, and they have the perfect excuse – Better Broke than Dead.
"More people would have died !"
– How would more people have died with Trump saying "refuse the poison" as opposed to Trump saying "Take the Poison" ? This can ONLY be true if most of the world was vehemently anti Trump. Most loved him.
"If Trump was actively against the vaccines, the media would be eviscerating him and he would be blamed for us still being in this Covid situation. Because he has been pro-vaccine, the media can't blame him for anything. His stance keeps focus on the inadequacies and illegitimacy of the Biden administration where it needs to be."
Then why is he promoting the boosters? That's when it clicked for me.
"Trump isn't killing anyone. Is he physically injecting people? Go away."
– Is Fauci Physically Injecting People? Or CDC's Walensky? No. Their job is to sell you the poison, yet no one trusts them. People Trust Trump – and he's selling it.
I know many people are weaving long threads and posts telling you Trump is playing 4d Chess. Consider the points above when you read them. And maybe even call them out by sharing this.
Whether you still support Trump or not – he lost me pushing vaccines and now boosters which are mass killing millions of people including babies – I think we need to push back against Trump when he's wrong. at the very least. And if that means calling him out for his promotion of poison, then maybe he'll think twice about promoting it to keep the FAKE NEWS from calling him bad names. Who cares what the FAKE NEWS thinks? What do lions care for the opinion of Sheep? Is he a leader or a pansy? We already KNOW Trump has thick skin.
He should care what WE think. Not what THEY think
WE THE PEOPLE are the ones who put him in power in the first place.
We're the ones being TORTURED IN DC JAILS for a FULL YEAR for WALKING WHILE CONSERVATIVE.
We're the ones whose lives are being destroyed, whose economy is falling to pieces, whose jobs and livelihoods are being threatened. Whose currency is being hyperinflated into mass poverty and privation.
We're the ones whose babies are dying when they nurse on their mothers. Who are born only to die bleeding from the mouth in their mothers arms because she was pressured into taking the vaccine in order to live a normal life.
We're the ones who are suffering.
Where is he on these issues? Any of them?
Take heart, We The People's Great Awakening is NOT over. Trump or no Trump.
In Case You Missed It:
Read more at: NemosNewsNetwork.com
Update April 18th, 2022
Medical Kidnap
Identifying the Luciferian Globalists Implementing the New World Order – Who are the "Jews"?
https://medicalkidnap.com/2021/06/20/identifying-the-luciferian-globalists-implementing-the-new-world-order-who-are-the-jews/
June 20, 2021
EXCERPTS
In the image collage that is the featured image at the beginning of this article, you can see a photo that was released by the White House of U.S. President Donald Trump together with Israeli Prime Minister, Benjamin Netanyahu.
In this official photo released by the White House, both men are obviously posing for the photo, so any expression or body language is clearly intentional, as this is a posed photo.
Donald Trump is clearly making the Masonic symbol of the inverted pyramid with his hands, a symbol that is very clearly understood by fellow Satanic Masons. We have no reason to believe that this was not intentional. It was meant to communicate something to those who understand.
The "Star of David," a hexagram, is part of the modern Israeli flag and displays the Satanic Masonic images of pyramids, and also represents the number 666…
The "Star of David," a hexagram, is part of the modern Israeli flag and displays the Satanic Masonic images of pyramids, and also represents the number 666.
These Masonic Satanic images are found everywhere throughout Washington D.C. in most national buildings and monuments.
The Washington Monument is a Satanic obelisk, and is the tallest obelisk in the world. Construction of the building began in 1848 and was completed in 1884. Freemasons laid the cornerstone on July 4th, 1848 using George Washington's Masonic apron, gavel and other Masonic regalia.
It represents the male sex organ, a penis.
The founding of the United States, and its leaders throughout history, have been controlled by Freemasons/Jesuits/Satanic Jews. And while these three terms may have some slight differences, they all overlap and worship the same "god," Satan. I will continue using the term "Satanic Jews" for the remainder of this article.
I have dealt with the rise of Donald Trump to the office of the U.S. Presidency in previous articles. I wrote this back in July of 2020:
Which Theory about President Trump's Rise to Power is More Credible?
Trump was selected by the Globalists to fulfill a plan, and those Globalists are Satanic Jews. Some of the most powerful families in the world, such as the Rothchilds and Rockefellers, are Satanic Jews (although I am sure there are many members of these family dynasties that want no part in their goal to setup a New World Order).
Some people believe that Donald Trump has done more to promote the modern day State of Israel and their Zionist plans than any other U.S. president before him. He moved the U.S. Embassy from Tel Aviv to Jerusalem, for example, which greatly pleased the Zionist Jews, and even more so, the Zionist Evangelical Christians.
The picture in the featured image collage at the beginning of this article that says "Trump Make Israel Great" was funded by Evangelical Christians and put up in Israel.
Right before Trump left office in January this year, he pardoned some of the most famous Jewish criminals that were in prison.
Trump pardoned Israeli colonel Aviem Sella, the convicted handler of US-born Jewish-American intelligence analyst and traitor Jonathan Pollard, who stole US military secrets and sold them to Israel.
Jonathan Pollard was convicted for espionage in 1987, but President Obama pardoned him in 2015, and Pollard was placed on parole. President Trump released him from parole just before the end of 2020, so he could return to Israel.
And then as he was leaving office, he pardoned his handler, Aviem Sella. (Source.)
Donald Trump's son-in-law Jared Kushner, who is married to his daughter Ivanka, is a Jew, and was reportedly the main influence in getting President Trump to move the U.S. Embassy to Jerusalem.
Jared Kushner's father, Charles Kushner, was serving a prison term when Trump ascended to the office of President of the United States.
Charles Kushner, who grew up in Elizabeth and brought up his family in Livingston, and whose son Jared is married to Ivanka Trump, went to jail in 2005 for fraud, tax evasion, and witness tampering. His crimes generated national headlines long before his Trump connection because it included paying a prostitute to seduce his brother-in-law.
Charles Kushner served 14 months at a minimum-security prison camp in Alabama and 10 months at a halfway house in New Jersey. Jared Kushner, his father-in-law's closest adviser, never forgave the prosecutor in the case, Chris Christie, the Republican who would go on to become New Jersey governor and one of Mr. Trump's most loyal campaigners in 2016. Jared Kushner nixed any role for Mr. Christie in the Trump administration.
Just before he left office, President Trump pardoned Charles Kushner as well.
Jared Kushner is a member of the Satanic Jewish cult called "Chabad Lubavitch." Michael Berg is a former member of this cult, and he wrote about his experiences in that cult a few years ago on henrymakow.com:
Insider: Is Trump Family Cult Behind Coming Armageddon?
by Michael Berg
Excerpts
I was born in Israel in 1985. My parents are European Jews (My parents' ancestors had a history in Germany since the middle ages.. )
Physically, my family and I don't look like "typical" Jews – I look like an ethnic German i.e. white skin, blue eyes, blond hair. Physically, I look like any normal White person of Northern-European ("Aryan") origin would look like.
Why is it important? It's important since Jewish racism against gentiles isn't so much about biological racism (hatred of gentiles because they are physically different from Jews). There are Jews in all shapes and colors. Jewish racism is about a spiritual racism – a belief that Jews have a higher soul than non-Jews and that non-Jews have satanic souls.
In this article, I want to tell you about my experience and my understanding of the Jewish religion in general and a racist cult "Chabad" in particular.
HOW I BECAME PART OF CHABAD
It all began at the age of 20. At the time I was a religious Jew but I wasn't quite part of Chabad. Then in 2005, while visiting NYC, I met a Chabad emissary who had introduced me to the movement. He asked me if I could visit "770" in Brooklyn NY. I did. I took part in their rituals and meetings and over the next 4 years I became a fanatic follower of Chabad.
We used to have meetings in which we had discussed the coming of the Jewish Messiah and the future world as envisioned by Chabad and the Jewish religion – a world where the Jews are the supreme masters of the Earth where every individual Jew has as many as 2,800 gentile slaves, a world, where the only purpose of non-Jews is to SERVE Jews. On the other hand, the Jews are considered as the "Seat Of God".
WHAT AND WHO IS CHABAD?
I'll describe Chabad the way I see it given my past membership in it. Chabad is a racist organization – a Jewish supremacist missionary cult whose main goal is Jewish total superiority over the "Goyim" and their enslavement.
Its central commandment is fulfilling the commandment "Breaking Through" i.e. making the world safe for Zionist world domination.
Trump & Nazis & Chabad -same crossed hands. (Editor's note: I researched this photo and only the young Donald Trump – left – and his father – right – appear in the original photo with their hands crossed like this. The skull and bones image and the Nazi soldiers image was added in.)
Chabad train their young to be emissaries when they grow up. Being "emissary" in Chabad terms means spreading their racist ideology to Jews all over the world – especially those who are not practicing Judaism. They give ideological and moral support for the Zionist Globalist Agenda.
They see the enslavement of the "Goyim" through the international Jewish banks and the international politics as serving their Messianic prophecies – a future world where the Jewish NWO controls all the nations of the world.
Under their leader Rabbi Menachem Mendel Schneerson, (1902-1994), the movement established a network of nearly 4,000 institutions that provide religious, social and ideological support to Jews in over 1,000 cities, spanning 100 countries including all US states.
THE NWO AGENDA
Chabad is nothing more than a manifestation of the Jewish racism that fuels the NWO agenda. Israel's founder and former prime minister David Ben Gurion's envisioned the Jews as being at the center of the One World Government (Illuminati Satanic NWO) dream.
The Jerusalem Supreme Court with the Illuminati pyramid and the mark of "All-Seeing-Eye" was built to support this agenda as envisioned by Ben Gurion:
"In Jerusalem, the United Nations (a truly United Nations) will build a shrine of the prophets to serve the federated union of all continents; this will be the seat of the Supreme Court of Mankind, to settle all controversies among the federated continents, as prophesied by Isaiah…"
Guess who funded and built the "Supreme Court"? The controllers of the world banks i.e. the Rothschilds of course! The Jewish Racist and supremacist agenda is blatantly in your face… It is simply a matter of 2+2=4.
Cabala and Satanism are a means to weaken their host nations so they can more easily control these nations by degrading them.
WHY I LEFT CHABAD AND JUDAISM BEHIND ME
I left Chabad since I had an experience which made me feel at the core of my being that this hatred of Chabad and Judaism (or Islam and ISIS for that matter) is not coming from God but from man's ego and fears.
I left Chabad due to a spiritual awakening. (Full article here.)
Jared Kushner became part of this cult during his college days at Harvard University.
When the U.S. moved their embassy to Jerusalem under the Trump presidency, President Trump said at the time that Evangelical Christians were more excited about the move than even most Jews.
Indeed, misguided and deceived Evangelical Christians with their heavily funded "Christian Right" political groups are one of the largest supporters of Zionism and the Satanic Jews. Most them don't even know that "Satanic Jews" exist, classifying anyone who calls themselves a "Jew" as all the same – the people "chosen by God."
But not all Evangelicals have drunk the Kool Aid, thankfully.
Ted Pike of the National Prayer Network is someone who has tried to expose the Satanic Jews for many years. In 1984 he wrote the book "Israel: Our Duty…Our Dilemma".
He and his wife (now deceased) also produced a film that is still available for viewing on YouTube, "Zionism and Christianity: Unholy Alliance".
In our featured image above at the beginning of this article, the top right shows President Trump proudly displaying an executive order that he signed regarding "the Jews."
Ted Pike discusses this EO on his website:
TRUMP SUPPORTS JEWISH CLAIM: CHRISTIANITY IS ANTISEMITIC
by Ted Pike
Excerpts:
Dear lovers of freedom,
Could social destabilization caused by the Coronavirus result in persecution of Christians? History has shown, as in the French and Russian Revolutions, that out of civil chaos the most anti Christian philosophies and demagogues can emerge. Inevitably, since Christianity is incompatible with such movements, Christians are first marginalized as "undesirables", then persecuted.
This is already happening. On Dec. 11, 2019, President Trump issued an executive order containing the allegation that Christianity, and by definition the New Testament, are anti-Semitic. This incredible charge is buried in his decree as example number 9 of the Jewish International Holocaust Remembrance Alliance's "11 Contemporary Examples of Anti-Semitism."
Trump's order includes these IHRC examples, upholding them, not as law, but as presidentially approved recommendations to government.
"The full text of the "IHRA Working Definition of AntiSemitism" (pages 7-9) is found at this link: "The Working Definition of AntiSemitism".
https://www.whitehouse.gov/presidential-actions/executive-order-combating-anti-semitism/
Federal criteria of what is anti-Semitism
His order commands that all agencies of the Executive Branch of the US government (including the FBI and US Justice Department) be encouraged to consider that the frequent New Testament charge "that the Jews killed Jesus" be considered antiSemitic. Here is the verbatim text from example 9:
It says anti-Semitism includes "Using the symbols and images associated with classic anti-Semitism (e.g., claims of Jews killing Jesus or blood libel) to characterize Israel or Israelis".
Clearly, IHRC/TRUMP are defining "classic anti-Semitism" as New Testament claims of "Jews killing Jesus". Yet, in order to suggest guilt by association, IHRC places the New Testament claim cheek by jowl next to the truly anti-Semitic blood charge- the medieval accusation that Orthodox Jews mix Gentile blood with the flour of their Passover unleavened bread.
IHRC does this so that the mind instantly conflates the New Testament with the most vulgar anti-Semitic accusation. More could be said about this definition's attempt to distract and confuse the reader, drawing his attention away from the fact that IHRA is clearly tarring Christianity as an ancient and inveterate religion of hatred and persecution of the Jewish nation and people.
Why did Trump include this outrageous definition in his executive order?
A SENIOR WHITE HOUSE OFFICIAL STATED THAT TRUMP'S JEWISH SON-IN-LAW, SENIOR ADVISOR JARED KUSHNER, PROVIDED THE INITIATIVE BEHIND THE PRESIDENT'S DECREE.
Kushner is a member of the fastest growing and most powerful and ambitious sect of Judaism today, the Lubavitchers [Chabad]. They are followers of the mystical/revolutionary, virulently Anti-christian Zohar, or Kabbalah. The Lubavitchers (originally called "Zoharists") very largely believe that the authority of the Zohar is greater than the Talmud, and certainly the Old Testament.
Have you heard about any of this from national evangelical leaders or Christian/Conservative "watchdog" groups, who should be warning the church of Trump/Kushner's threat to freedom and free speech? Of course not!
They are proving to be what scripture describes as "all dumb dogs, they cannot bark," (Isaiah 56:10).
Such alleged "Watchmen on the wall" seem more dedicated to the proposition that it is better to lose freedom and free speech than risk God's curse for criticizing a Jew who is intent on forging the legal chains which right now are taking away not only free speech but something very precious for Evangelical Christians: the dignity and truth that far from being potential 'anti-Semitic hate criminals', they embrace the Apostle Paul's assertion, "Brethren, my heart's desire, and my prayer to God for them (Jews) is for their salvation," (Romans 10:1). (Full article.)
Some may think that Pike's warnings are unwarranted, especially since they are just in an executive order, not legislation, and could easily be overturned.
However, of perhaps greater concern is something that actually IS written into legislation, something that Altiyan Childs briefly touched upon in his presentation about Freemasonry, and that is the topic of the Jewish Noahide Laws.
This is part of U.S. Law, and former Congressman Bill Dannemeyer, who was in office when these laws were enacted, has sounded the alarm over just what these laws mean.
NOW THE GOVERNMENT CAN LEGALLY KILL CHRISTIANS
by Bill Dannemeyer (husband of Dr. Lorraine Day)
U.S. Congressman, 1979-1992
Excerpts:
Your U.S. government can now legally kill Christians for the "crime" of worshipping Jesus Christ! A diabolic deception has been perpetrated on the American people by their OWN leaders, Senators and Congressmen, who have sold their soul to the devil.
On March 5, 1991, in the House of Representatives, and March 7, 1991, in the U.S. Senate, without any knowledge of, or input by, the people of the United States, U.S. Senators and Congressmen passed a law that is so outrageous – and frankly unconstitutional – that it forces the American people to be bound by a set of monstrous rules, called the Noahide Laws, rules that make the belief in Jesus Christ a crime punishable by decapitation by guillotine!
On March 20, 1991, President George H.W. Bush, a supposed Christian, signed the bill into law.
Before you respond, "NO, that cannot be – not in our free country!" let me explain.

The passage of this law, HJ Res. 104, is especially troublesome to me because I was a member of the U.S. House of Representatives at the time it was passed.
Even worse, I was in the House Chamber the very day that is was passed, voting on other legislation.
Yet I, as a U.S. Congressman, had NO KNOWLEDGE that it had been passed or even that it was to be brought up for a vote.
How could this be? How could the deception be so pervasive that those of us who had sworn to uphold our country's Constitution, particularly those of us (few, indeed) who really took our position seriously as the protectors of the people, could be totally in the dark regarding the content of this bill and its passage by the leaders of this country – by treachery and deceit?

Here's how it happened! (Read the full article here.)
Bill Dannemeyer died in 2019. His wife, Dr. Lorraine Day, also covered this in a 1-hour interview with Israeli News Live:
Dr. Lorraine Day Tells About the Passing of the Noahide Laws
Israeli News Live had a special guest that is sure to have many people thinking. Watch as we get to the truth on a number of bizarre topics. Dr Lorraine Day shares with us on the Noahide Laws and how they were subtly signed while her husband was a US Congressman. she exposes the secret societies and the Elite Zionist that are leading us to a New World Order. http://www.drday.com/
Update August 15, 2022
FAKE NEWS: The Raid on Mar-a-Lago
Aug 12, 2022
Donald Trump Reminds the World He is an Authoritarian
Derrick Broze August 9, 2022
Derrick Broze breaks down Donald Trump's recent speech in Washington D.C. which confirms he is still an authoritarian.
Update August 21, 2022.
FOLLOW YOUR LEADER… OVER THE CLIFF – DAVID ICKE DOT-CONNECTOR VIDEOCAST
ALL US PRESIDENTS – ARE RELATED AND SELECTED – BY SATANIC BLUE BLOOD
NY Nadia adds more fuel to the fire.
Sorry, but Trump is in on It
Update October 7, 2022
As the Vaccines Start to Kill-Trump Never Should Have Admitted he was the Father of the Vaccine
Update December 30th, 2022
Donald Trump Is Out of Power — and Out of Luck
The ex-president is finally fair game for an entire legion of lawyers.
December 8 2022, 11:49 a.m.
Former US President Donald Trump departs after speaking at the Mar-a-Lago Club in Palm Beach, Florida, Nov. 15, 2022.
Photo: Alon Skuy/AFP via Getty Images
IF POLITICS WERE football, Donald Trump would be a JAG.
NFL fans know what that means: Trump is "Just a Guy."
In professional football slang, being a JAG means that a player is average, nothing special. A JAG lacks game-changing talent and unique status. A JAG is not a star. If a JAG makes too many demands, he'll be kicked off the team and thrown out on the street.
Trump is finally finding out that being a former president is not the same thing as being president. Both in the courts and in politics, it turns out that being a former president is a lot like being a JAG.
For four years, Trump used his special status as president to shield himself from criminal investigations and other legal actions. Trump's position was clearly a factor in the decision by Robert Mueller, the special counsel in the Trump-Russia case, not to bring charges against him. The nation's main recourse for holding Trump accountable while he was president was impeachment, and he became the first president in history to be impeached twice by the House of Representatives. But the Republican-controlled Senate failed to convict him each time, and so Trump came to believe that he was bulletproof.
But now that he is out of office, Trump is finally fair game for an entire legion of lawyers. The legal system grinds slowly, but nearly two years after Trump left the White House, a dizzying number of cases against him are finally ramping up, seemingly all at once. Prosecutors are having a field day with Trump. He is facing a legal perfect storm.
Trump's status as "just a guy" was confirmed Tuesday by a jury in New York, when his real estate company was convicted of tax fraud and other crimes. The jury found the Trump Organization guilty of all 17 counts of financial crimes the company was facing. Donald Trump was not personally charged in the case, but prosecutors did say during the trial that he was complicit by "explicitly sanctioning tax fraud."
The criminal prosecution against Trump's company came as he, his children, and their family business are also facing a civil case brought in September by the New York attorney general, charging them with fraud for radically overstating the value of company assets. If they are found guilty, Trump and his children could be barred from running businesses again in New York.
The New York criminal case against Trump's company now appears to be leading to a renewed effort by local prosecutors to investigate Trump personally. After Tuesday's verdict in the criminal case, Manhattan District Attorney Alvin Bragg said that the case against Trump's company was just "one chapter in the book," and that his office's investigation of Trump is still underway.
In fact, the verdict came as Bragg was also reportedly gearing up to revive a long-stalled criminal investigation into Trump's secret hush-money payment to porn star Stormy Daniels. The money was designed to buy Daniels's silence during the 2016 presidential campaign about her erstwhile affair with Trump.
Separately, E. Jean Carroll, a writer who claims Trump raped her in the mid-1990s, also sued the ex-president in late November for battery and defamation in New York. She had originally sued Trump for defamation while he was president, after he claimed he hadn't assaulted her because she was "not my type." That earlier lawsuit is still tied up in court over Trump's claims that he can't be sued for the comments because he was acting in his official capacity as president when he made them.
Similarly, a federal appeals court heard arguments Wednesday over whether Trump should be immune from lawsuits brought against him in connection with statements he made on January 6. A district judge ruled against Trump in February, saying that the three lawsuits, brought by police officers who were at the Capitol on January 6 and Democratic members of Congress, could proceed despite Trump's claims of presidential immunity for his speech.
Last week, the Supreme Court showed that it also now considers Trump a JAG. The court sided with the Democratic-controlled House Ways and Means Committee, ruling that the panel had the right to obtain Trump's tax returns. The legal battle between Trump and the committee over his tax returns had gone on for years, beginning when he was president. But once he left office, he could no longer count on the support of the Justice and Treasury departments to shield his returns. Rep. Bill Pascrell Jr., the New Jersey Democrat who chairs the Ways and Means subcommittee on oversight, noted that the Supreme Court ruling came after the panel had waited almost as long as it took to fight the Civil War.
On yet another front, an appeals court ruled in favor of the Justice Department and against Trump last week in the ongoing case involving his apparent theft of government documents. The appeals court overturned the decision by a lower court judge to create a so-called special master to review documents that the government took from Trump's Mar-a-Lago home during an FBI raid in August. The ruling clears the way for the newly appointed special counsel, Jack Smith, to finish the criminal investigation in the documents case. The legal maneuverings around the special master had slowed the case to a crawl over the last few months, but in its ruling, the appeals court made it clear that the lower-court judge had been wrong to give any special treatment to Trump in the way in which materials seized under a search warrant are handled.
Smith, the new special counsel, has also been put in charge of the criminal investigation of Trump's role in trying to overturn the 2020 presidential election, and he has been busy on that front since taking over on November 18. Two of Trump's White House lawyers were forced to testify last week before a federal grand jury about their former boss's efforts to overturn the election; this week, meanwhile, Smith has sent grand jury subpoenas to officials in Michigan, Arizona, and Wisconsin, seeking any communications with Trump or his aides in connection with his efforts to overturn the 2020 vote. Smith seems to be intensifying the criminal probe of efforts by Trump and his allies to upend the results in key swing states so that he could win in the Electoral College.
While Smith ramps up his investigation, the House January 6 Committee, which will effectively go out of business when Republicans take over the House in January, plans to make criminal referrals to the Justice Department based on its investigation, the committee's chair said Tuesday.
Separately, a Florida appeals court on Tuesday ordered Michael Flynn, Trump's national security adviser who later became a key figure in efforts to overturn the 2020 election, to testify as early as Thursday before a grand jury in Atlanta investigating Trump's efforts to overturn the election in Georgia. Flynn is expected to be one of the last witnesses before the Atlanta grand jury, which is a "special purpose" body and will not issue indictments; instead, it will recommend whether anyone should be prosecuted. The Georgia case, in which Trump may face charges of leading a conspiracy to send fake electors from Georgia to the Electoral College, may eventually pose a grave legal threat to the ex-president personally.
Another new verdict in a January 6-related case also is bad news for Trump. Stewart Rhodes, the leader of the far-right militia known as the Oath Keepers, was convicted last week of seditious conspiracy in connection with the Capitol insurrection. The verdict, showing that a jury believes there was a conspiracy behind the riot, raises the legal stakes for Trump and his lieutenants.
To once again try to shield himself from the legal tidal wave, Trump announced right after the midterm election in November that he was running for president again in 2024. But just as he no longer enjoys special legal status, his political power also seems to have ebbed. Almost all the major candidates Trump endorsed lost in the recent election, dragging Republicans down to one of the worst midterm performances in modern history for a party out of power. In a final insult on Tuesday, Democratic Sen. Raphael Warnock defeated the Trump-anointed Republican, former football player Herschel Walker in the Georgia runoff election. Failure in the midterms has finally led more Republicans to call for an end to the party's addiction to Trump. (His rant last weekend demanding that the Constitution be suspended so he could be reinstalled as president apparently didn't help.)
As the year ends with Trump's JAG status confirmed, he can only console himself with right-wing dregs, like Elon Musk's laughable efforts to publish Hunter Biden's dick pics.
"Every few years the right produces a billionaire with extensive ties to the US deep state who poses as a populist hero who is fighting the deep state. Before it was Trump. Now it's Musk. Later on it'll be someone else. But it's just a show to make it look like someone's fighting.
Both Trump and Musk get the opposite mainstream faction barking and snarling at them in exactly the same way Hillary Clinton drove Republicans insane. And in reality Musk, Trump and Clinton all serve the establishment that's defended by both the Democrat and Republican parties. It's all kayfabe combat staged to make it look like someone's fighting on behalf of the disaffected Americans who are growing angry with their rulers' complete indifference to them. Give them a hero to clap along with and they won't take up the fight for themselves.
Keeping everyone barking at shiny figureheads who represent one mainstream faction keeps people glued to mainstream factions which are framed as for or against those shiny figureheads. This keeps everyone subscribed to mainstream worldviews.
They don't just control the opposition, they control the opposition to the controlled opposition. That's what the AOC/Bernie/TYT progressives are, and it's what the MAGA/Tucker Carlson/Elon Musk faction is as well. They pretend they're fighting the establishment while protecting it."
Awakening From The Narrative Matrix: Notes From The Edge Of The Narrative Matrix Caitlin Johnstone, December 29th, 2022
Update March 27th, 2023
Presidential candidates may be psychopaths – but that could be a good thing
A new study of psychopathic traits by Oxford University psychologist discovers that Donald Trump ranks above Adolf Hitler and only just below Idi Amin, Saddam Hussein and Henry VIII. Hillary Clinton ranks between Napoleon and Nero.
The current race to the White House has not been short of people questioning the candidates' states of mind. But what happens if you take a more scientific approach?
Oxford University's Dr Kevin Dutton has been exploring the psychopathic traits of the US presidential hopefuls and historical figures using a standard psychometric tool – the Psychopathic Personality Inventory – Revised (PPI-R).
Dr Dutton has spent much of his career looking at psychopaths and researching psychopathic traits, identifying those which can be of benefit and those which can lead to incarceration. He contends that being a psychopath is not an all-or-nothing affair. Instead, psychopathy is on a spectrum along which each of us has our place. There are several professions which seem to attract more than their fair share of those high on the psychopathic scale, among them business, surgery, the law, military and… politics.
Over the past few years, Dr Dutton has contacted the official biographers of many historical leaders and asked them to fill out, on their subject's behalf, an abbreviated version of the Psychopathic Personality Inventory – Revised (PPI-R). As it unfolds, the 'league table' shows that the vast majority are high scorers – including Winston Churchill – especially on the positive aspects like social influence, fearlessness and coolness under pressure. However, analysis also reveals that leaders who possess psychopathy's negative traits – such as self-centredness, impulsivity and a lack of empathy – tend not to do so well in office.
Further to analysing political leaders, Dr Dutton recently turned his attention to the contenders for the US presidency. Working with an anonymous, highly respected and seasoned political correspondent, Dutton has analyzed the psychopathic traits of the then presidential hopefuls Donald Trump, Hillary Clinton, Ted Cruz and Bernie Sanders. Like the historical biographers, the correspondent filled out the PPI-R short version for each of the candidates.
Dr Dutton explained: 'The PPI-R does not say that someone is or is not a psychopath. It scores them on eight traits that contribute to a psychopathic character. Some of those traits, such as fearlessness or stress immunity, can be positive. Others, such as blame externalisation or being unconcerned about the future, are more likely to be negative. One, cold-heartedness, can contribute to good and bad leadership.
'Both great and terrible leaders score higher than the general population for psychopathic traits, but it is the mix of those traits that determines success. For example, someone who scores highly for being influential, fearless and cold hearted could be a decisive leader who can make dispassionate decisions. If those traits are accompanied by a high score on blaming others, they might be a genocidal demagogue.'
The results clearly show Donald Trump to be higher scoring than rivals, achieving a total score on a par with Hitler and Idi Amin. Of particular interest, Trump outscored the other candidates in 'fearless dominance', the area associated with successful presidencies, and in 'self-centred impulsivity', the set of traits considered negative.
Dr Dutton said: 'It is interesting that these scores reflect both the praise and the criticism that Trump and Clinton receive. In the end, while both score relatively highly, it will be up to voters to decide whether their mix of positive and negative traits should send them to the Oval Office.
Update April 24, 2023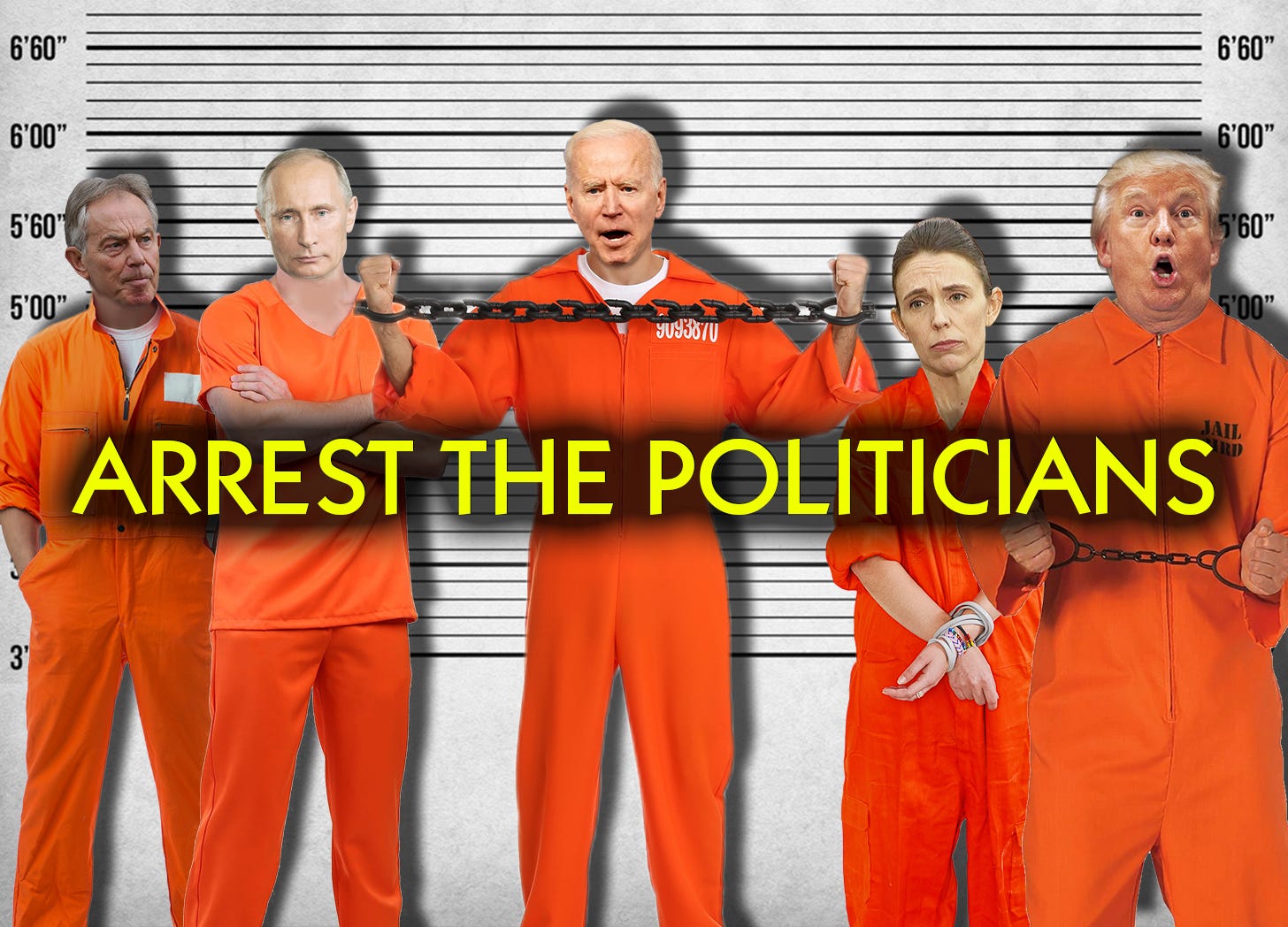 by James Corbett
corbettreport.com
April 23, 2023
EXCERPT
DONALD TRUMP
Now, before the red caps in the crowd start hyperventilating ("I always KNEWyou were a shill, James!"): relax! Of course I don't think The Orange Man should be put into an orange jumpsuit over some Stormy Daniels-related "campaign finance violation" horsetwaddle.
And if you think I'm talking about Russiagate then you haven't seen my typically entertaining and hilarious (if I do say so myself) debunking of Russiagate.
No, that's all left/right, Coke/Pepsi partisan political distraction nonsense. Instead, let's arrest Trump for something of consequence.
Like what? Well, how about his work against American interests in the service of a foreign power?
No, I'm not talking about Russiagate, silly. As I observed back in 2017: "Forget Russiagate, The REAL Scandal Is Israelgate."
Oh, you don't remember Israelgate? That's not surprising, since Russiagate was hyped endlessly by the same truthtelling truthsayers at the bastions of truthiness like CNN and MSNBC, and Israelgate was never mentioned once by those controlled corporate (fake) news networks.
For those not in the know, the ouster of Michael Flynn from his role as Trump's national security advisor came when he "pleaded guilty to one count of lying to the FBI about his back-channel negotiations with the Russian ambassador." But what was he "negotiating" with the Russians about?
Hmmm. Let me check my notes. . . .
Oh, that's right! He was "negotiating" with the Russians about their vote on United Nations Security Council Resolution 2334. You know, the resolution that sought to condemn Israel's ethnic cleansing of the Palestinians? And what was he on the horn with his Russian counterpart about, exactly? Oh yeah, he was trying to twist the Russians' arm to vote "no" on the resolution.
And who put him up to that task? Why, none other than the Son-in-Law-in-Chief, Jared Kushner, the wheeling and dealing Wunderkind whose family is so connected to Israel's zionist likudniks that he once let Benjamin Netanyahu sleep in his bed (yes, literally) and who failed to disclose that he led a foundation that actually funded an illegal Israeli settlement (yes, really).
Oh, wait. Silly me! It seems Israelgate is all about Trump's son-in-law and has nothing at all to do with Trump himself. I mean, it's not like Donald J. Trump would ever sell out America in the interests of Israel, would he?
OK, I guess he did move the US embassy to Jerusalem, unilaterally altering longstanding US foreign policy in the region to implicitly endorse Israel's ethnic cleansing of the Palestinians. And Donald "Make Israel Great Again" Trump did brag at every opportunity how he was a "true friend of Israel" who may be a "newcomer to politics but not to backing the Jewish state" and didgloat about how Israelis believe him to be "the King of Israel" and love him like "the second coming of God." And he did make campaign endorsement videos for his best pal Benjamin Netanyahu (another unconvicted criminalwho, come to think of it, should definitely be arrested!).
But he'd never sell out American interests in favour of Israel. Heaven forfend! I guess Kushner must've put Flynn up to that phone call all by himself.
So, what else can we arrest Trump for?
Well, how about his international war crimes in Syria? You know, the country that—like Obama (who should be arrested) and Bush (who should be arrested) before him—Trump continued to bombard for years in a completely illegal attempt at regime change? Or has the international community already forgotten about the Syria Strikes?
Remember the Syria Strikes? Convinced by the pictures provided to him by the Academy Award-winning White Helmets that Assad had indeed gassed the "beautiful babies" of Douma and apparently unconvinced by every shred of available evidence that this was, in fact, yet another false flag perpetrated by the anti-Assad terrorists, Trump lobbed 59 Tomahawk land attack missiles at the country in 2017 (adding $5 billion to the bottom line of his buddies at Raytheon in the process).
Or remember when Trump bragged about the "highly successful" (and highly illegal) raids he ordered as part of the years-long US-sponsored war crime in Yemen that he likewise inherited from Obama and gleefully expanded during his time in office?
These are undoubtedly offences of the highest order. But if we really want to arrest Trump for his crimes against humanity, why don't we convict him for the very thing he's proudest of: his role in the scamdemic?
Trump's loudest defenders always conveniently forget that their orange hero came to office on the back of his willingness to discuss the vaccine/autism link and his promise to appoint RFK Jr. to chair a commission on vaccine safety but that under his watch vaccines became the greatest thing since sliced bread and an RFK Jr. vaccine safety commission was off the table because Bill Gates told him it was a bad idea.
They forget that it was Trump who ordered Operation Warp Speed and who called the MAGA jabs his "greatest achievement."
They forget it was Trump who followed Fauci's every dictate throughout the course of the scamdemic and allowed the shutdown of the country at the behest of the "health" tyrants.
They forget it was trump who pulled off the ultimate vaccine bait and switchby removing funding from the WHO . . . in order to give it to Gates' GAVI, the vaccine alliance.
Yes, if any world leader needs to answer for the crimes against humanity committed during the scamdemic, it's Trump. Can you imagine if Trump actually were the hero that the QAnoners believed him to be? Can you imagine him calling out the scamdemic for the transparent sham that it was, instead of actively helping facilitate the deep state's crimes? Neither can I.
This site doesn't have third party ads. Please consider making a donation.
Make a monthly donation
Make a yearly donation
Choose an amount
Or enter a custom amount
$
---
Your contribution is appreciated.
Your contribution is appreciated.
Your contribution is appreciated.
Donate
Donate monthly
Donate yearly