( 8819 words)
This statement by Attalli is reiterated by Klaus Schwab in his book written in 2020.
Why I have zero fear of the Covid-19 virus.
PCR TEST and COVID A BIG FRAUD
I have a PdD in virology and immunology. I'm a clinical lab scientist and have tested 1,500 "supposed" positive Covid-19 samples collected here in S. California.
When my lab team and I did the testing through Koch's postulates and observed under a SEM (scanning electron microscope) we found NO Covid in any of the 1500 samples. What we found was that all the 1500 samples were mostly influenza A and some were influenza B, but not a single case of Covid, and we did not use the B.S. PCR test.
Then we sent the remainder of the samples to Stanford Cornell and a few other University of California labs and they found the same results as we did. NO COVID. They found influenza A and B. All of us then spoke to the CDC and asked for viable samples of Covid-19, which they said they could not provide as they did not have any samples.
We now come to the firm conclusion through all our research and lab work that the Covid-19 was imaginary and fictitious. The flu was called Covid-19 and most of the 225,000 dead were dead through co-morbidities such as heart disease, cancer, diabetes, emphysema, etc. And then got the flu which further weakened their immune system and they died.
I have yet to find a single sample of Covid-19 to work with. We at the 7 Universities that did the lab tests on these 1500 samples are now suing the CDC for Covid-19 fraud. The CDC has yet to send us a single viable, isolate and purified sample of Covid-19. if they can't or won't sent us a viable sample, I say there is no Covid-19 virus, it is fictitious. The four research papers that do describe the genomic extracts of the Covid-19 virus were only 37 to 40 base pairs long which is NOT A VIRUS.
A viral genome is typically 30,000 to 40,000 base pairs. With as bad as Covid-19 is supposed to be all over the place, how is it that no one in any lab worldwide has ever isolated this virus in its entirety? That's because all they've ever found were small pieces of RNA which were never identified as the virus anyway. Andrew Wye PhD.
Even if you still insist on believing that Covid-19 exists according to the CDC the death rate is very low.
Remarkably Low Coronavirus Death Rate. Where is the Media?
Posted on: Wednesday, July 8th 2020 at 1:15 pm
Written By: Daniel Horowitz

Originally published on www.conservativereview.com
Most people are more likely to wind up six feet under because of almost anything else under the sun other than COVID-19.
The CDC just came out with a report that should be earth-shattering to the narrative of the political class, yet it will go into the thick pile of vital data and information about the virus that is not getting out to the public. For the first time, the CDC has attempted to offer a real estimate of the overall death rate for COVID-19, and under its most likely scenario, the number is 0.26%. Officials estimate a 0.4% fatality rate among those who are symptomatic and project a 35% rate of asymptomatic cases among those infected, which drops the overall infection fatality rate (IFR) to just 0.26% — almost exactly where Stanford researchers pegged it a month ago.
Until now, we have been ridiculed for thinking the death rate was that low, as opposed to the 3.4% estimate of the World Health Organization, which helped drive the panic and the lockdowns. Now the CDC is agreeing to the lower rate in plain ink…
But if still want to get the vaccine for a virus that has a very low death rate and may not even exist, which product will you choose?
And are you aware of these vaccine facts?
Furthermore even you you're fully vaccinated since the PCR test is a total fraud you may still test positive for Covid-19.
Almost 4000 Fully Vaccinated People in Massachusetts Have Tested Positive for COVID
Nearly 4,000 fully vaccinated people in Massachusetts have tested positive for COVID-19, according to recent data from the state Department of Public Health.
The number of breakthrough cases in the state has been infrequent so far — accounting for approximately one in 1,000 vaccinated people.
As of June 12, there were 3,791 coronavirus cases among the more than 3.7 million fully vaccinated individuals in Massachusetts, reports said.
So let's address the real problem. The number of fools that have been fully vaccinated.
These graphs are from ourworldindata.com.
This data for almost every country as well as all the states in America in provided on this site which I don't thrust completely for it also records covid deaths which in reality are zero and is sponsored by the cabal run institutions attempting to bring in the NWO through depopulation. So these figures may have been inflated to give people the idea "everyone is getting vaxxed so I better do it too."
It is interesting to note the wide discrepancy between the high income group and the low income group. I attribute this cap to the fact the high income group has more education which is in most cases NWO programming and more exposure to the propaganda coming through the media and the internet.
The situation looks much worse if we look at the graph of people that have had only one injection.
Perhaps the people who got the first jab will have such a bad experience they will avoid a second jab. We can only hope so.
Did you know that in Canada and the USA kids that are twelve or older can get the jab without parental consent? In Canada the government is offering ice cream cones to kids who get vaccinated.
In the USA…
Biden Promises Free Beer and Childcare if 70% of Americans Get at Least 1 Vaccine Shot Before July 4
President Joe Biden unveiled a plan to get 70% of Americans at least one COVID-19 vaccine shot before the July 4th holiday, during a speech Wednesday afternoon.
"Today we're announcing a month-long effort to pull out all the stops to free ourselves from this virus," the president said. "It's going to take everyone: the federal government, the state governments and local, tribal, and territorial governments, the private sector and, most importantly, the American people to get to this 70% mark so we can declare independence from COVID-19."
The plan includes recruiting private businesses to offer incentives to get vaccinated, including a tax credit to cover the cost of providing paid time off for Americans to get the vaccine.
The plan also includes a pledge by Anheuser-Busch to offer free beer to Americans after the country meets Biden's 70% goal. Meanwhile, CVS has begun a sweepstakes for vaccinated people to win free cruises, Super Bowl tickets and cash prizes, and Major League Baseball will offer on-site vaccinations at games and give free tickets to fans who take up the offer.
'This Week' With Mary + Polly: White House Teams Up With Snapchat to Encourage Teens Get Vaccinated
This week, Mary Holland, Children's Health Defense (CHD) president, and Polly Tommey, co-producer of "Vaxxed," cover the latest COVID headlines, including heart problems in young people in Connecticut post-COVID vaccine, how Snapchat and the White House are teaming up to get teens vaccinated, and schools that are creating pep-rally atmospheres with mascots, food and prizes to encourage students to get the COVID vaccine.
Mary and Polly also discuss how Merck is using celebs to push childhood vaccines, Germany's plan to start vaccinating kids 12 to 15 for COVID and the enrollment of children ages 6 months to 11 years old in a Moderna vaccine study at the Henry Ford Health System in Detroit.
What can you expect if you get the vaccine? Horror stories you better tell your teen about today.
Tell him if he is lucky he will only get….
Permanent "lethargy syndrome" and long-term loss of motor skills now common "side-effects" of Covid-19 vaccines
Tuesday, June 22, 2021 by: S.D. Wells
Tags: adverse events, adverse reactions, coronavirus, covid vaccine, covid vaccines, covid-19, health freedom, side effects, vaccine death, vaccine injury, vaccine reactions, VAERS, yellow card

(Natural News) Plain and simple, lethargy is a lack of enthusiasm and energy, but what causes it? It could just be normal response to stress, overworking, lack of a good night's rest, or even lack of nutrition. Everyone is familiar with feeling sluggish and weak, but not permanently, immediately following inoculation with the Covid-19 vaccines. This is different. After a few weeks, and several doctor visits, nobody seems to be able to figure out what's wrong, and that's because the "science is settled" on vaccines, though not really at all.
Just because you say a slogan over and over doesn't make it true. The Covid vaccines are very far from "safe and effective." They're outright dangerous and detrimental to health, including normal daily functioning. For example, motor skills are something most of us just take for granted on a daily basis, like standing, walking, climbing stairs, balancing, coordinating, reacting and so on. This would include gross motor skills and fine motor skills, but what if you suddenly lost many of these abilities, right after getting jabbed with these so-called "safe and effective" experimental concoctions?
Now, there's a wave of victims of vaccine coming out and explaining how they've lost motor skills, some while experiencing relentless, excruciating pain for weeks or months on end. Some victims are saying these crippling "side effects" come on 3 or 4 days after inoculation, and are lasting for 3 to 4 months, including constant lethargy, excruciating shooting pains going up their spine and neck, blindness, deafness and depression.
All Covid-19 vaccines are documented as a "medical experiment" by "emergency use authorization" only, according to the CDC and FDA
We're talking about the most experimental inoculation ever created, untested, unproven and classified by the FDA and CDC as a "medical experiment." Oh, yes they did. Emergency Use Authorization was all they could get for this, and the drugged up animals are suffering from immediate and long-term health detriment.
Eric Clapton received the AstraZeneca Covid-19 vaccine and said, "I took the first jab of AZ and straight away had severe reactions which lasted ten days." He said he thought he "would never play again." Six weeks later he was told to take the second AZ shot, without being informed of any dangers whatsoever. Clapton said his body's reactions were disastrous, and froze his hands and feet, rendering them "useless for two weeks."
He suffers peripheral neuropathy now, even though the vaccine propaganda machine can only spew out the same tired lie in response to every injury and every death, claiming every single Covid-19 vaccine is 100 percent safe and 100 percent effective, at all times, everywhere, for everyone.
Will Eric Clapton ever play guitar again? Some people have gone deaf and blind too after getting these toxic Covid jabs
In the United Kingdom, 35 people have gone deaf almost immediately after getting the Covid-19 vaccine, and 25 others went blind after getting stuck with the mRNA inoculations. This is tracked by their yellow card system (similar to our VAERS system) that posts injuries, side effects and "adverse events" – which already reveals over 190,000 cases/reports.
These include varying degrees of extreme injuries. AstraZeneca's vaccine accounted for 60 percent of all of these, including responsibility for 58 percent of the people who went blind or deaf. Tack on over 400 deaths reported in just this yellow card system, with nearly half of those attributed to Pfizer's deadly concoction.
This is news you never hear on mainstream media USA networks. This is completely banned from any postings, videos or memes on ALL social media platforms, including YouTube. As far as Americans know, there are ZERO problems with any vaccines ever made, including all of these dirty, blood-clotting jabs for Covid-19. They simply have no clue, no news and no facts.
Then, as if that wasn't bad enough, there's this horrifying statistic: Among younger adults and youth, Covid-19 vaccines have KILLED over 250 times the amount of people the actual virus has killed. Let that sink in for a minute. Now why should any company or organization be ALLOWED to say the words "safe and effective" in the same sentence as vaccines, if you're going to be censoring something?
Visit CovidVaccineReactions.com if you already got a toxic Covid jab or two and you are experiencing side effects, blood clots or other adverse events. Then tune your internet frequency to Pandemic.news for updates on these crimes against humanity being delivered under the guise of inoculation.
If you are not so lucky you might get a rash like this one.
Or maybe a hearing or eye disorder.
Ophthalmologists now ethically obligated to denounce covid-19 vaccines as 20,000 new eye disorders are reported
05/05/2021 / By Lance D Johnson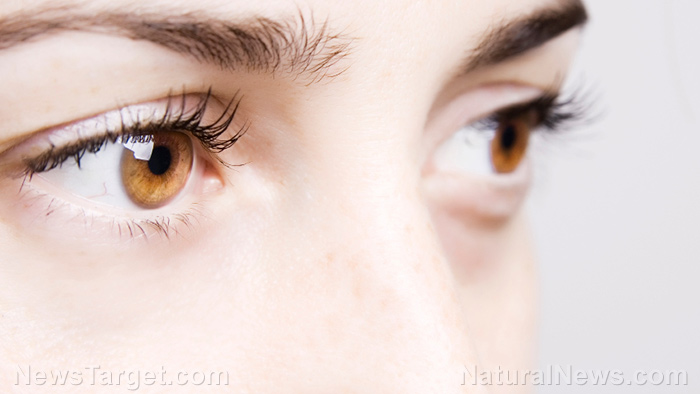 In just a few months, the World Health Organization received approximately 20,000 reports of new eye disorders that occurred post covid-19 vaccination. These reports include 303 cases of blindness and 1,625 cases of visual impairment! The European drug monitoring agency had never recorded such a severe spike in eye injuries until after the experimental vaccines were launched. These reports were collected by VigiBase and analyzed by the Uppsala Monitoring Centre in Uppsalla, Sweden.
About half of the new eye disorders were additionally reported to the U.K.'s Yellow Card adverse event reporting system, which was set up to monitor the influx of adverse events that were anticipated during this live, experimental vaccine study. Back in 2020, the vaccine makers had already entered into liability-free contracts with governments around the world. This has enabled mass vaccine injury with no recourse or accountability and set up the framework for a historic, worldwide holocaust.
Ophthalmologists need more training to properly recognize and report vaccine injury
These experimental vaccines are designed to cause inflammation throughout the body, by reprogramming human cells to produce inflammatory spike proteins that are derived from the bio-weapon itself. Eye damage is merely a symptom of this inflammation, a sign of more serious problems to come with capillaries and autoimmune issues. The inflammatory conditions caused by the vaccines provide a new revenue stream for various industries within the medical system, including ophthalmology.
With mounting evidence of eye injury post-vaccination, ophthalmologists are ethically obligated to denounce these covid-19 vaccines. The vaccines are causing acute eye injuries at scale and are an underlying cause of inflammation for future eye disorders and other health problems. However, ophthalmologists are not properly trained to recognize, diagnose and report vaccine injury.
When the U.S. FDA issued Emergency Use Authorization for these experimental 'vaccines', they did not mention eye disorders specifically. In their fact sheet, they warn, "additional adverse reactions, some of which may be serious, may become apparent with more widespread use of the Pfizer-BioNTech COVID-19 Vaccine."
In the UK's Yellow Card System, vaccine-induced eye damage includes 4,616 cases of severe eye pain, 3,839 cases of blurred vision, 1,808 cases of light intolerance, and 559 cases of double vision. These issues were not prevalent until the vaccine was used. Some of the eye issues are mild but could be a sign of more serious issues within the cardiovascular or nervous systems. There were 768 cases of eye irritation, 731 cases of itchy eyes, 788 cases of ocular hyperemia, 459 cases of eye strain, 400 cases of dry eye, and 653 cases of increased lacrimation.
The covid vaccine holocaust is destroying people's hearing and vision
More serious issues of swelling were documented as well, including swelling around the eye (366 incidences), swelling of the eyelid (360 incidences) eyelid oedema (298) conjunctival haemorrhage or breakage of a small eye vessel (236), periorbital oedema (171), and eye haemorrhage (169). The swelling can be indicative of more serious cerebral, spinal, and/or cardiovascular issues. Blood clots and nervous system disorders are a commonly reported adverse event. The eye disorders provide a window of opportunity to understand just how severe the inflammation is. Ophthalmologists are able to identify early signs of vaccine-induced brain swelling, cardiovascular issues and stroke to help patients seek emergency care before the patient becomes another casualty to these horrid vaccines.
One 33-year-old pilot had severe migraines and sudden vision problems following the Pfizer vaccine. The pain migrated down the back of his neck toward the bottom of his skull. The pain lasted for several days and was accompanied by dizziness, nausea, disorientation, confusion, uncontrollable shaking, and tingling in his toes and fingers. He was ultimately evaluated by doctors. The Pfizer COVID vaccine had increased the pressure in his spinal cord and brain stem, rupturing his left inner ear, and damaging his eyesight.
To learn more about the new vaccine holocaust, read up at VaccineDamage.News.
Other adverse effects are more serious.
The Defender
Children's Health Defence News & Views
18 Connecticut Teens Hospitalized for Heart Problems After COVID Vaccines, White House Says Young People Should Still Get the Shots
One week after the Centers for Disease Control and Prevention (CDC) announced it was investigating heart inflammation in recently vaccinated young adults, Connecticut reported 18 new cases of heart problems among teens who had received a COVID vaccine.
All 18 cases resulted in hospitalization — the vast majority for a couple of days, reported NBC Connecticut. The cases were reported to the Connecticut Department of Public Health by vaccine providers, said Deirdre Gifford, acting health commissioner.
Before COVID Vaccine, Her Son Was a Healthy Athlete — Now He Can 'Barely Walk,' Mom Says
One day after getting the Pfizer-BioNTech COVID vaccine, Everest Romney became sick. Five days after being vaccinated, the 17-year-old was hospitalized when doctors discovered two blood clots in his brain.
Everest's mother, Cherie Romney, told Children's Health Defense Chairman Robert F. Kennedy, Jr. on the "RFK Jr. The Defender Podcast" her son, a varsity basketball player at Corner Canyon High School in Draper, Utah, was a very healthy athletic child who was in the middle of recruiting season for his school basketball team.
Now, the teen can barely walk.
…THE CONDITION OF A TEENAGE GIRL AFTER COVID 'VACCINE'
"The type of vaccine that this poor girl received is currently unconfirmed on my end but given the number of other covid "vaccine" adverse event's already confirmed it's highly likely that the video title is authentic and that this horrible reaction was indeed caused by the Covid "vaccine"
https://www.bitchute.com/video/gGGdQU1S07ZZ/
FORMER HEALTHCARE WORKER – "NO HELP IF YOU SUFFER ADVERSE EFFECTS FROM VACCINE"
https://www.bitchute.com/video/LaDRykAksmYe/
"Doctors are blowing people off at this point. They don't know what to do. They have already done the worst they can do. You are completely screwed. Notice I said former health care worker. She can't work any more. There is a victims fund out there for vaccine victims but I have not heard of anyone getting any compensation."
And it is possible that you will die sooner than later. You comply. You die.
06/15/21
19-Year-Old College Freshman Dies From Heart Problem One Month After Second Dose of Moderna Vaccine
Simone Scott underwent a heart transplant one month after developing what her doctors believe was myocarditis following her second dose of Moderna. She received the second vaccine May 1 and died June 11.
The Defender is experiencing censorship on many social channels. Be sure to stay in touch with the news that matters by subscribing to our top news of the day. It's free.
Simone Scott, a 19-year-old freshman at Northwestern University in Evanston, Ill., died June 11 of complications from a heart transplant she underwent after developing what her doctors believe was myocarditis following her second dose of the Moderna COVID vaccine.
Scott received her second dose of Moderna on May 1, WLWT 5 reported. When the 2020 Mason High School graduate and senior class vice president paid a surprise visit to her parents for Mother's Day, May 9, her mother said she noticed Scott wasn't feeling well.
"I did notice she was kind of stuffy so her voice wasn't exactly the same," Valerie Kraimer said.
Scott returned to campus on May 11, where even after a visit to the doctor, her condition worsened. Kraimer said multiple tests came back negative including a COVID-19 test.
"On Sunday morning [May 16], she texted her father and said, 'Dad, I feel so dizzy. I cannot get out of bed' and that's when everything really started from there," Kraimer said.
Scott's parents were hundreds of miles away so her father called campus police to have someone check in on her.
"We learned that a doctor had to jump on her chest and give her CPR because she was that bad, and then the whole cascade of events happened, Kraimer said. "They had to intubate her and realized she was in heart failure."
After multiple interventions, including hooking Scott to an ECMO machine that mirrors the function of the heart so her own heart could rest, doctors determined she needed a heart replacement. Her doctors have not fully confirmed the cause of her death, but they said it appears Scott suffered from myocarditis.
Myocarditis is inflammation of the heart muscle that can lead to cardiac arrhythmia and death. According to researchers at the National Organization for Rare Disorders, myocarditis can result from infections, but "more commonly the myocarditis is a result of the body's immune reaction to the initial heart damage."
The university told students Scott died from complications after undergoing a heart transplant. "Scott's death came weeks after a heart complication in May, which led to a heart transplant," The Daily Northwestern reported.
Former New York Times reporter Alex Berenson said in a thread posted June 14, the Northwestern journalism student "suffered a case of apparent myocarditis-induced heart failure on Sunday, May 16. Despite extraordinary measures to save her, including a heart transplant, she died Friday morning at Northwestern Memorial Hospital in Chicago."
"Doctors appear to have repeatedly missed signals as Scott's condition worsened in the two weeks following her second shot — before she abruptly crashed," Berenson said.
Scott received the COVID vaccine on her own accord, but her university now mandates students be fully vaccinated before returning to campus, The College Fix reported.
"I still feel like she's here, even though I know that she's not and it just feels like such a waste," Kraimer said.
Scott's parents are still waiting on multiple tests on her heart to come back in the hope they will learn why they lost their daughter so suddenly.
As The Defender reported June 11, the Centers for Disease Control and Prevention (CDC) will convene an emergency meeting of its advisers on June 18 to discuss higher-than-expected reports of heart inflammation following doses of Pfizer and Moderna COVID vaccines.
The CDC said during a June 10 meeting of the U.S. Food and Drug Administration's (FDA) Vaccines and Related Biological Products Advisory Committee the agency had identified 226 reports of heart inflammation that might meet its "working case definition" of myocarditis and pericarditis following the shots, The Defender reported last week.
According to the CDC, a total of 475 cases of myocarditis or pericarditis were recorded in patients 30 and younger who received an mRNA vaccine. The median age of people with myocarditis or pericarditis following the first dose was 30, and after the second-dose, 24.
The CDC's Vaccine Adverse Events Reporting System (VAERS) revealed 900 cases of myocarditis and pericarditis, among all age groups reported in the U.S following COVID vaccination between Dec.14, 2020 and June 4, 2021. Of the 900 cases reported, 533 cases were attributed to Pfizer, 331 cases to Moderna and 32 cases to J&J's COVID vaccine.
Dr. Tom Shimabukuro, deputy director of the CDC's Immunization Safety Office said during the June 10 FDA hearing there had been a higher-than-expected number of cases of heart inflammation among young people recently vaccinated with their second doses of mRNA vaccine.
13-year-old Michigan boy dies 3 days after second Pfizer COVID-19 jab
Wednesday, June 23, 2021 by: Cassie B.
(Natural News) As the relentless push to vaccinate the world's population with the experimental COVID-19 jab continues, we are constantly being reminded why this is such a bad idea. Case in point: A 13-year-old Michigan boy died of a cardiac event just days after getting his second dose of the Pfizer vaccine.
Although we can't say with complete certainty there was a cause and effect here, the signs are pretty clear: Jacob Clynick was a healthy young man who was not taking any medication when he received his second dose of the shot on June 13 at Walgreens three weeks after getting his first dose.
Less than three days later, the boy was dead. Initial autopsy results show that his heart was enlarged and surrounded by fluid. These are the hallmarks of the myocarditis that has been seen in several other young boys and men following the shot. If this is a coincidence, it's a pretty big one.
Even CNN has admitted that at least seven boys aged 14 to 19 have suffered from a rare type of heart inflammation after getting their COVID-19 shot. Many of these young men fared better than Jacob, recovering after spending some time in the ICU, but there's no question that they and their families underwent some deeply worrying times, and there could be long-term damage.
The numbers are so high that they can no longer be ignored, with health officials reportedly looking into the link between myocarditis heart inflammation and COVID-19 jabs. Overall, hundreds of others, mostly those in their teens to 30s, have also experienced myocarditis or pericarditis, after their second dose. The CDC says that the number of cases seen in the 16-to-24 age bracket is higher than expected – which would seem to indicate they were expecting some people to have this reaction despite constant reassurances it's safe – yet still rare. That's surely little comfort to these boys and their loved ones.
CDC Director Dr. Rochelle Wolensky claims her own children have received the shot, but she said the CDC "will present details about more than 300 confirmed cases of myocarditis and pericarditis reported to the CDC and FDA among the over 20 million adolescents and young adults vaccinated in the United States."
A meeting is expected to be held later this week between the CDC and vaccine advisers after being pushed back because of the new "Juneteenth" holiday.
Experts want more information before vaccinating kids
A member of the FDA Vaccines and Related Biological Products Advisory Committee, Dr. Cody Meissner, warned: "Before we start vaccinating millions of adolescents and children, it's so important to find out what the consequences are. I do not feel we can justify [an emergency use authorization] including children."
Meissner, who is a pediatrics professor at Tufts University School of Medicine, said that there have been four hospitalizations due to COVID-19 for everyone one million children infected, which is a very low rate and does not qualify as an emergency.
Meanwhile, the World Health Organization's website only says that the vaccine is safe for those aged 18 and older. WHO Head Tedros Adhanom Ghebreyesus has called on wealthy countries to postpone their plans to vaccinate kids and teens and instead donate their shots to adults in low-income countries where there are shortages.
Clynick's aunt, Tami Burages, drew a lot of attention for posting about her nephew's death on Twitter. She said that while she believes the shots are saving "millions of lives," she doesn't want to see any child being a "sacrificial lamb" and that Jacob would be alive today if he hadn't received his second shot.
Unfortunately, many parents are feeling pressured to get their children vaccinated despite no one truly knowing the risks, and it's only a matter of time before schools start requiring kids to be vaccinated to attend. It is an absolute tragedy to see otherwise healthy young people die so needlessly, and the social pressure and virtue signaling that is going on right now surrounding this deadly vaccine is shameful. When will this madness stop?
Sources for this article include:
ANOTHER RENOWNED MEDICAL PROFESSOR CARDIOLOGIST BLOWS LID ON COVID19 VACCINE
May 30/2021
"In America 500 million other vaccine injections have been given to people which have caused about 200 deaths per year. About 100 million people have recieved the Covid-19 vaccine and there have been over 4000 deaths and over 10,000 people have been hospitalized. It is far and away the most lethal, toxic, biologic agent ever injected into a human being in American history." Dr. Peter McCullough
Dr. McCullough is an internist, cardiologist, epidemiologist, and Professor of Medicine at Texas A & M College of Medicine, Dallas, TX USA. Since the outset of the pandemic, Dr. McCullough has been a leader in the medical response to the COVID-19 disaster and has published "Pathophysiological Basis and Rationale for Early Outpatient Treatment of SARS-CoV-2 (COVID-19) Infection" the first synthesis of sequenced multidrug treatment of ambulatory patients infected with SARS-CoV-2 in the American Journal of Medicine and subsequently updated in Reviews in Cardiovascular Medicine. He has 40 peer-reviewed publications on the infection and has commented extensively on the medical response to the COVID-19 crisis in The Hill and on the FOX NEWS Network.
Dr. McCullough probably got the figure of 4000 deaths from the VAERS which is the Vaccine Adverse Event Reporting System set up by the CDC Centers for Disease Control.
CDC Members Are Not Unbiased
CDC Members Own More Than 50 Patents Connected to Vaccinations
Weltchek Mallahan & Weltchek Attorneys At Law
Lutherville, MD
Practice Areas
Medical Malpractice, Wrongful Death
Other Articles by the Author
The CDC Immunization Safety Office is responsible for investigating the safety and effectiveness of all new vaccinations; once an investigation is considered complete, a recommendation is then made to the CDC's Advisory Committee on Immunization Practices (ACIP) who then determines whether the new vaccine will be added to the current vaccination schedule. Members of the ACIP committee include physicians such as Dr. Paul Offit, who also serves as the chief of infectious diseases at the Children's Hospital of Philadelphia. Offit and other CDC members own numerous patents associated with vaccinations and regularly receive funding for their research work from the very same pharmaceutical companies who manufacturer vaccinations which are ultimately sold to the public. This situation creates an obvious conflict of interest, as members of the ACIP committee benefit financially every time a new vaccination is released to the market.
Members of the ACIP Committee Directly Influence Public Health
Each of the 12 members of the CDC's ACIP Committee has a significant influence on the health of nearly every member of the American population. Because they are responsible for adding to and/or altering the national vaccine schedule, it is of critical importance that they remain objective and unbiased before determining whether a new vaccination is appropriate for use, particularly in the bodies of vulnerable young children. Unfortunately, a significant number of ACIP committee members receive direct financial returns when more vaccinations are added to the current schedule. Many own vaccination related patent(s) and/or stock shares of the pharmaceutical companies responsible for supplying new vaccines to the public. Others receive research grant money, funding for their academic departments, or payments for the oversight of vaccine safety trials.
A Long List of Patents Owned by ACIP and Other CDC Members
The following is a partial list of some of the patents that are owned or shared by members of the CDC and/or ACIP committee, including Dr. Paul Offit:
"Nucleic acid vaccines for prevention of flavivirus infection" – This patent comes into play during the manufacturing process of vaccines for yellow fever, Zika, Dengue, West Nile virus and more.
Various vaccination testing methods – When pharmaceutical companies need to test aspects of a new vaccine, they may utilize one of the CDC's patented testing methods including an artificial lung system for aerosol vaccines and a process that screens new vaccines for human rhinoviruses.
Adjuvant patents – Adjuvants are components within vaccinations intended to create an intensified immune reaction; members of the ACIP own patents on adjuvants used specifically in vaccinations created for premature babies and full term newborns.
Assays that assist vaccine development – During the vaccine development process, manufacturers will often observe biological samples for specific antibodies; the CDC owns a patent on an assay that facilitates this monitoring system.
Vaccine quality control – patents on various aspects of quality control for vaccinations are utilized by pharmaceutical companies on a large scale once a new vaccine is actively distributed to the public.
In total, 56 individual patents were found to be owned or shared by one or more members of the ACIP committee or other committees within the CDC.
Members Claim They are Unbiased
When prompted with questions pertaining to their financial connections with pharmaceutical companies, most ACIP members claim they are able to remain unbiased despite the rewards they receive every time a new vaccination is recommended to the public. In numerous instances, vaccines released to the market are later removed after serious side effects are documented. The rotavirus vaccine was one such example; it was pulled from the market in 1999, a year after its initial approval. In 2001, the House Government Reform Committee found that four out of the eight ACIP members who voted to approve the vaccine had direct financial ties to one or more of the pharmaceutical companies who produced the vaccine for public use. Similar situations involving many other vaccinations have been independently documented over the course of nearly 20 years.
A Multi Billion Dollar Industry
The vaccination industry currently generates $30 billion in profit each year, some of which reaches the hands of the very people who create the vaccine schedule. Despite concerns connecting vaccinations to the increase in autism and a host of other disorders, the number of recommended vaccines continues to grow each year. With a new federal administration interested in uncovering the dirty secrets hidden within alliances between CDC members and vaccine manufacturers, we may begin to see a wave of personal injury and wrongful death lawsuits related directly to unethical behaviors which have led to numerous unsafe vaccines being pushed on an unknowing public. If the National Vaccine Injury Compensation Program (NVICP) is amended or repealed, victims of vaccine damage will be legally permitted to file claims directly against vaccine manufacturers and members of the ACIP committee who often have had knowledge of vaccine risks yet continue to recommend their widespread use.
Considering the biased nuture of the members of the CDC it should come as no surprise that Albert Benavides believes the data about the number of adverse events reported on VAERS has been tampered with in order to make it appear the covid-19 vaccine is safe.
CDC COVER UP HIDING MORE THAN 1 MILLION PEOPLE WILL HAVE ADVERSE EFFECTS FROM COVID VACCINE
May 20, 2021 War Room With Owen Shroyer
Dr. Jane Ruby is joined by Albert Benavides to discuss CDC case numbers and VAERS adverse reaction numbers.
https://www.bitchute.com/video/6SiIV3xSVrx6/
What does J.P. Sears have to say about the Center for Domination and Control?
What Health Authorities Are Like in 2021.
To find out the truth about how deadly this vaccine is watch the following videos.
DR. JUDY MIKOVITS SAYS 50 MILLION WILL DIE IN U.S. FROM COVID VACCINE – DR. SHERRY TENPENNY AGREES
https://www.bitchute.com/video/YThHI6XOzDoq/
COVID DEPOPULATION VACCINES BY 2025 (WATCH TO END)
https://www.bitchute.com/video/2JIrCO22p8ff/
But this can't be true, this is too far out. It's beyond science fiction. But so are these videos from vaxxed people who have become magnetic.
MAY 30, 2021: MAGNETIC ARM AFTER GENETIC VACCINATION EVEN WITH A FORK
https://www.bitchute.com/video/c4wohiltLjyZ/
A new case of magnetism after genetic Corona19 vaccionation? A fork is sticking to this woman's arm where she got the jab. Doctors are failing, as usual to provide a sensible explanation, but for sure it's not the vax.
She created a telegram channel to document her mission to find out what happened to her. https://t.me/bgalvinjabjourney
PHONE STICKS TO VACCINATED LADIES ARM
https://www.bitchute.com/video/iq8MOF7GrLAd/
MAN SAYS HIS WHOLE BODY (NOT JUST HIS ARM) IS MAGNETIC AFTER 2 MODERNA SHOTS.
https://www.bitchute.com/video/ReygNzZ30pAf/
Hang on it gets even stranger.
Man Gets Vaxxed – Now Every Bluetooth Electronic
Device Tries To Connect With His Body
Screen shot
How is even possible? Good question. This article by Mike Adams provides the answer.
Superparamagnetic nanoparticles delivered via vaccines; Operation Warp Speed a TRAP for Democrats and the engineered collapse of America accelerates
Tuesday, May 25, 2021 by: Mike Adams
Tags: badhealth, badmedicine, magnetic fields, magnetofection, magnets, medical technology, SPIONs, superparamagnetic nanoparticles, vaccine wars, vaccines, weird science
(Natural News) If you've seen any of the recent videos of magnets sticking to people's arms after they've been vaccinated, you might be wondering: Are there magnetic nanoparticles in those vaccines?
A study published in the National Library of Medicine in 2014 proves that "superparamagnetic nanoparticles" are successfully delivered into the body via vaccines, and once in the body, they can be used to inject DNA into cells, altering their genetics. The study is entitled Superparamagnetic nanoparticle delivery of DNA vaccine.
It states:
The use of superparamagnetic iron oxide nanoparticles (SPIONs) to deliver genes via magnetofection shows promise in improving the efficiency of gene delivery both in vitro and in vivo… Polyethylenimine was chosen to modify the surface of SPIONs to assist the delivery of plasmid DNA into mammalian cells due to the polymer's extensive buffering capacity through the "proton sponge" effect.
A second study, also published in PubMed / National Library of Medicine, states that superparamagnetic nanoparticles can be driven into brain cells through the use of external magnets.
That study is entitled, Superparamagnetic Nanoparticle Delivery to the Cochlea Through Round Window by External Magnetic Field: Feasibility and Toxicity.
The study found that external magnets were able to control SPIONs into injecting genetic material (DNA) into the cells of rats. This means that external magnetic fields can be used to cause "magnetofection," which means the altering of DNA using external magnetic fields combined with special nanoparticles that are injected.
The study concluded:
The histological study of the cochleae showed that SPIONs were driven into the scala tympani in the basal turn, the second turn, and the apex.
What this tells us is crucial to understand: Vaccine scientists have been experimenting with magnetic nanoparticles for many years, and they've already created techniques to use vaccine injections to deliver nanoparticles into the brain, allowing them to be controlled by external magnetic fields.
MAGNETISM – INTENTIONALLY ADDED TO MRNA SHOT – WARNING LABEL: NOT FOR USE IN HUMANS
Millions are finding out that magnets are now sticking to them after this poison MRNA injection.
Listen to what is intentionally being put into their bodies and getting into every cell.
This is a Crime Against Humanity which will lead to catastrophic death around the world.
Hospitals are filling up not with Covid patients but with people suffering from horrific side effects from the shot.
There is another strange side effect of the Covid-19 vaccine; bioluminescence.
THE NEW #BLACKLIGHT CHALLENGE? (VAXXED PEOPLE GLOW WITH BLACK LIGHT – LUCIFERASE)
STAY TUNED for my next elaboration on the purpose of these nanoparticles and luciferase in these vaxxes. Moderna patent shows luciferase, synthetic bioluminescence in patent. Key word search nanoparticles also. The two combined have been used since 2017 for brain imaging as luciferase allows nanoparticles to pass blood brain barrier. These nanoparticles are manipulated by electromagnetic fields (5G) for a whole array of purposes such as mind-control.
5G Activates COV-19 Proteins & More
https://www.brighteon.com/3b8b549a-eed1-48dd-b4f4-fd8cec2a3e74
Covid vaccine is engineered so that 5G can connect with the spiked proteins in your body. The DNA that the vaccine produces in the cells will replace your DNA. When 5G is turned on it will cause a tumour in your weakest organ.
Live Blood Cells analysis reveals what the Vaccination does to the Blood Cells
Read the Beforeitsnews.com story here.
Shocking Live Blood Analysis After Vax – LOOK
Monday, May 24, 2021 12:10

This was posted on a social media site. We are expecting more Dark Field Microscope Images will be posted showing the CATASTROPHIC changes in the blood of people who have taken the deadly injection…which is NOT a 'vaccine' by ANY stretch. Here's the text that was posted with this image.
"I have a friend who is a Nutrition Microscopist. She is an expert in her field and has helped me immensely. She has many clients who took the so-called vax and asked them to come in for a free blood analysis. To her utter horror, this is what she saw. The top image is of completely healthy blood and blood cells before the 'vax' injection. The blood cells changed drastically over the next few days. The third picture (bottom center) shows countless, foreign nano particles (white specks) that show up in your blood shortly after the injection. Your body can NEVER detox from this and eventually those nano particles will enter every cell in your body."
What this means, in short, is that you will never be the same and your health will be heavily impacted for the rest of your life…however short that many be. This is, without question, a crime of mass genocide against humanity.
Note the final picture just above, the fourth image, shows this person's blood cells no longer being smooth and symmetrical. They are now covered with lumps and protrusions. This is an intentional world war on human blood. As Dr. Sherri Tenpenny and Dr. Luc Montagnier, and others, are saying, the injections will kill and will never stop killing. Dr. Montagnier, perhaps the world's top Virologist, projects the life expectancy of all who have taken the kill shot injection is only 2 years. Remember the Deagel.com projections…only 99 million Americans will be alive by January 2025 …that's just 3 and 3/4 years from now.
Also remember, all the top politicians and 'name' players such as Brain Dead Biden, Ho Harris Emhoff and arch fraud Tony Fauci…were given a blank saline injection…not the real shot. Fauci couldn't even remember which arm he took the injection in the very next day…
So just maybe by now I have convinced you not to get "the most lethal, toxic, biologic agent ever injected into a human being in American history." But what about shedding which is the transfer of spiked proteins from a vaxxed person to a non vaxxed person? For more information about shedding go the bottom of my post "Nanobots found on Covid-19 Test Swabs."To make matters worst the spiked proteins will soon be in our food supply because twenty states are going to make fertilizer from the bodies of vaxxed people.
"That is too gruesome! Too bizzare to be true!" you exclaim. Well, then you better read this.
Now 20 US states liquefy vaccine-murdered people and spread their flesh goo on food crops as "fertilizer"
Monday, May 17, 2021 by: Mike Adams
Tags: badclimate, badhealth, badmedicine, badpollution, badscience, Biosludge, Biosolids, dead people, hydrolysis, insanity, sewage, water cremation, Wisconsin
(Natural News) Now 20 US states have legalized the practice of liquefying dead people, dumping their flesh goo down the sewage drains, harvesting the sewage as "biosludge" and spreading it on food crops as a form of fertilizer. (See absolute proof of this in the state government links below.)
Welcome to 2021 in America, where the dead are liquefied and fed to the living, almost like a scene ripped right out of The Matrix.
As LifeSiteNews now confirms, Wisconsin is the latest US state to legalize this practice, which is deceptively named "water cremation." But it uses lye as the chemical ingredient that eats away human flesh, turning it into a slimy goo that's washed off the bones using city water. This resulting "flesh goo" — often the remains of vaccine-murdered citizens — is flushed into the city sewer system and combined with raw human feces, light industrial waste, feminine hygiene products that are flushed down toilets, and other biohazard waste, then transformed into "biosludge" which is loaded onto trucks and dumped on food farms.
I created an entire feature film documenting this process, including the interview of a former top EPA scientist who tried to blow the whistle on this practice but was threatened and professionally destroyed by the EPA. That film is available to watch (for free) at Biosludged.com.
That scientist, David Lewis, even wrote a book documenting all this called, "Science For Sale." For attempting to blow the whistle on the EPA-approved practice of mass pollution of US crop soils with biosludge, David Lewis was threatened by government goons and stripped of all funding for his environmental research on toxic substances in soils. If you thought the "science" behind the plandemic was insane, take a peek at the criminally insane "science" the EPA uses to justify the mass pollution of America's soils.
Just in time to dispose of all the bodies that will be generated by the covid vaccine death wave
Now, states like Wisconsin are adding liquefied human "flesh goo" remains to the biosludge cocktail, actually dumping human DNA and vaccine-originating RNA fragments onto food crops, apparently oblivious to the trans-genetic process of "transfection" that may wreak havoc on the sustainability of future food crops and soil microbiomes.
The timing of all this seems especially convenient, given that the vaccine death wave from Antibody Dependent Enhancement (ADE) may only be another 5-6 months away. It begs the question: What will cities and states do with all the dead bodies as the spike protein bioweapon achieves the depopulation goals of Fauci and Gates?
Answer: Flush them down the sewers and spread them on food crops as "fertilizer." This puts dead humans into the food supply as an indirect form of cannibalism. Soon, if you eat non-organic product, you will be eating crops that are literally grown in human flesh goo.
This is not science fiction and it isn't a conspiracy. You can read it right here in Wisconsin Senate Bill SB228: The use of alkaline hydrolysis to cremate human remains and providing an exemption from emergency rule procedures.
Introduced by Senators TESTIN, L. TAYLOR, CARPENTER, KOOYENGA and RINGHAND, cosponsored by Representatives NOVAK, SWEARINGEN, ARMSTRONG, BOWEN, CALLAHAN, KITCHENS, KRUG, MOSES, L. MYERS, J. RODRIGUEZ, ROZAR, SKOWRONSKI and STUBBS. Referred to Committee on Health.
This is why "fact checkers" won't touch this topic, because the facts are crystal clear. They don't want to admit that covid vaccine-murdered human beings are being liquefied and spread on food crops all across America (in 20 states and counting).
It's one more reason to eat organic, of course, since organic crops disallow the use of biosludge as fertilizer. Then again, we now have organic proponents signing up to be injected with the deadly covid vaccine, which means they may soon become an input for the food supply itself.
Listen to my shocking Situation Update podcast to learn the full truth about this stunning revelation:
Brighteon.com/698ddf8a-9b71-4fa8-a30c-1e1e87206c81
If you have taken the shot or live with or work with people who have had the shot you need to know there are remedies. Some of these mentioned in this video are dydroxychloroquine, ivermectim, fennel seeds, anise seeds, horsetail tea, and white pine needle tea. Other solutions are intermittent fasting, earthing, suanas, and baths with epson salts, baking soda and/or borax. But as Dr. Larry Pavelski said, we have to move away from our reliance on authority figures and connect with our on inner knowing or higher self to get the answers we need.
5 HOLISTIC DOCTORS DISCUSS WHAT THEY ARE DOING TO PROTECT THEMSELVES FROM THE BIOWEAPON SHOTS
First published at 19:56 UTC on May 28th, 2021.
Dr. Lee Merritt, Dr. Christiane Northrup, Dr. Carrie Madej, Dr. Sherri Tenpenny, and Dr. Larry Pavelski discuss what measures they are taking to protect themselves from the bioweapon shots and whatever those who took the injections are transmitting to those who have not.
Three of the doctors said that they did earthing or grounding which refers to the discovery of benefits—including better sleep and reduced pain—from walking barefoot outside or sitting, working, or sleeping indoors connected to conductive systems that transfer the Earth's electrons from the ground into the body. There is a great documentary about earthing.
The Earthing Movie: The Remarkable Science of Grounding (full documentary)
2,899,062 views•Premiered Nov 19, 2019 YouTube
A Prayer for the Vaccinated
Lisa Renne has written a prayer for the vaccinated which I give everyday for if they have not suffered yet they certainly will. I wish I could do more for them.
Given the sadness many of us are experiencing now while observing the outerscape, may we come together in group prayer to offer spiritual support to those who have been brainwashed and intimidated to believe that this extremely harmful toxic injection is an immune enhancing vaccination.
Beloved Holy Presence of God we intend to multiply our Krystal prayers for those who are being injected with harmful materials and are being injected under the guise of vaccination. We bring forth God Sovereign Free Blessings for our friends, for family, and blessings for certain regions and areas who are being forced to vaccinate. Whether this is psychological intimidation or emotional torturing, they're still being forced through intimidation and misinformation. We ask that our genuine heart based Krystal prayers be held for all people who do not see the truth behind these genocidal agendas being marketed as vaccinations. We pray with all of our heart that those who receive this injectable and the synthetic nano fibers are protected in God's Eternal Love and Light.
In Mother's Holy Presence we pray that the biochemical harness programs of the 666 and beast machine technologies be removed from this injection and all related AI devices and structures designed for harmful genetic modification and spreading of diseases in all dimensional realities fully, completely, and totally. We pray to ease the suffering in those who take this injectable and have injuries and health complications, may these beloveds find the healing, the spiritual resources and guidance to become healthy and balanced while held in their True Mother's Arms.
Beloved God, may those who take this or witness these issues with this agenda and this injection find the courage, find the strength to speak up and join together in Truth. We pray with all of our Sacred Krystal Heart that this pestilence program and its spiritual bondage and slavery on this planet be fully eradicated, that all human beings can take back their sovereign rights as a beloved child of God. May Peace be with all Truth Tellers. May Peace be with all Truth Seekers. For it is the time of spiritual warfare where no outer markers give us direction forward, only the power of our inner spiritual presence to direct us and guide us accordingly. As we walk through the valley of the shadow of death, we will fear no evil. For thou art with me, thy Rod and thy Staff. They comfort me. Beloved family of One, thank you so much for this opportunity. It is with great joy and reverence we are home in the eternal light of God and Christos-Sophia. Our infinite stream of love is with you in all ways.
Update October 17th, 2021
The Vaccine Death Report reveals the true number of vaccine deaths and serious injuries as of September, 2021.
EVIDENCE OF MILLIONS OF DEATHS AND HUNDREDS OF MILLIONS OF SERIOUS ADVERSE EVENTS RESULTING FROM THE EXPERIMENTAL COVID INJECTIONS

The Vaccine Death Report shows all the scientific evidence that millions of innocent people lost their lives and hundreds of millions are suffering crippling side effects, after being injected with the experimental covid injections. The report exposes the strategic methods used by governments and health agencies to hide 99% of all vaccine injuries and deaths. You will also learn who is really behind all of this, and what their true agenda is.
The report also shows horrifying lab results
from microscopic investigation of some vaccine vials: 
living creatures with tentacles, as well as
self-assembling nanorobots. See picture:
The Vaccine Death Report contains a tremendous amount of critical information, that you will find nowhere else in such a comprehensive and well organized format. It ends with a strong message of hope, that will greatly empower you.
This report is a critical alarm call to the world.
Download it now, and distribute it far and wide.
To download the PDF go to, (Double click and then select "Search…")
<a href="http://&lt;!– wp:paragraph –> <p> http://www.stopworldcontrol.com/report </p> <!– /wp:paragraph –> <!– wp:paragraph –> <p></p> <p> http://www.stopworldcontrol.com/report </p> <!– /wp:paragraph –> <!– wp:paragraph –> <p></p> <!– /wp:paragraph –>